Matzo Pizza
Despite the fact that these pizzas are definitely not kosher thanks to the pepperoni, this was our way of celebrating the start of Passover...using a matzo as the crust for a pizza. We actually saw that one of the local pizza joints was serving matzo pizza, and even considered ordering it from there, but then decided to make a homemade version for lunch the following day since we were already on our way to the grocery store to pick up a few things for later in the week.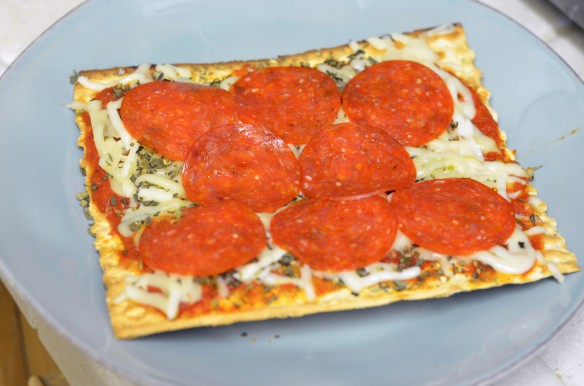 Dustin picked up some really nice Mediterranean matzo at the grocery store made with sundried tomatoes then we topped it with pizza sauce, mozzarella, pepperoni, and a little bit of pizza seasoning. I think Dustin may have found a new favorite way to eat matzo!
Happy end of Passover!