Orange Poppyseed Bread
This has to be one of my favorite quick bread recipes that I've made in a long time. Take lemon poppyseed bread and replace the lemony goodness with orange and you have this perfect breakfast treat. After eating if for breakfast three mornings in a row, it reminds me of something you'd get from Starbucks, thickly sliced, citrusy and fragrant, with a nice thick layer of icing. Dustin complains that I usually glaze breads rather than ice them, so this time I did things his way, and the icing firms up nicely along the top.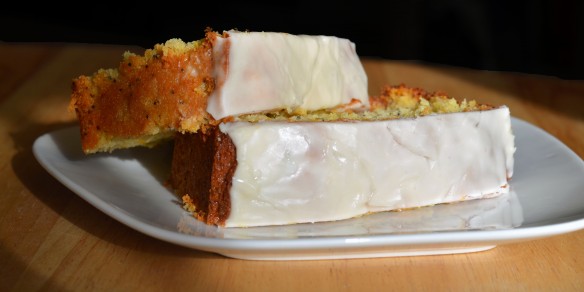 Orange Poppyseed Bread
yields 1 9" loaf
Bread
1 1/2 cups whole wheat pastry flour (all-purpose can be substituted)
2 teaspoons baking powder
1/4 teaspoon salt
2 medium sized oranges, zested
2/3 cup Greek yogurt (I used a pineapple flavored, but you couldn't taste it specifically)
1/3 cup fresh squeezed orange juice
3 eggs
3/4 cup granulated sugar
1/3 cup vegetable oil
1/4 teaspoon vanilla extract
Preheat the oven to 350º. Spray a 9" loaf pan with non-stick cooking spray.
Sift together the flour, baking powder, and salt in a medium-sized bowl.
Add in the orange zest and mix.
In a large bowl, whisk together the yogurt, orange juice, eggs, sugar, vegetable oil, and vanilla extract.
Slowly add the dry mixture to the wet mixture and mix until just combined. Do not over mix.
Pour the batter into the loaf pan.
Bake for approximately 50 minutes, or until a toothpick inserted into the center comes out cleanly.
Allow to cool in pan on a wire cooling rack for at least an hour before removing and icing.
Icing
1 cup powdered sugar (may need more or less)
1/2 orange, juiced (may need more or less)
Combine the powdered sugar and orange juice in a small bowl and whisk until a paste-like consistency is reached.
Add more powdered sugar or orange juice as needed.
Spread over the top of the bread and allow to cool.
Keeps for up to three days refrigerated.
adapted from Epicurious