Pineapple Upside Down Cake
Part of the reason I miss Seattle so much is missing out on weekly dinner parties with our neighbors. Well I guess I can't call them dinner parties as much as getting together for food, puppy playdates, and whatever HBO show was in season each year... They were more casual than "party-like" typically.  Not only do we miss our neighbors (Bonnie misses her BFF and is still missing a void even after adopting her a practically twin sister), but I miss that weekly opportunity to make a spectacular dessert. Cookies and brownies are fun to send to work/school, but cakes are really designed for some event, even if it's just watching Game of Thrones and letting the dogs get out some pent-up energy. So when we were invited to a small 6 person dinner, I jumped at the chance to make a pineapple upside down cake.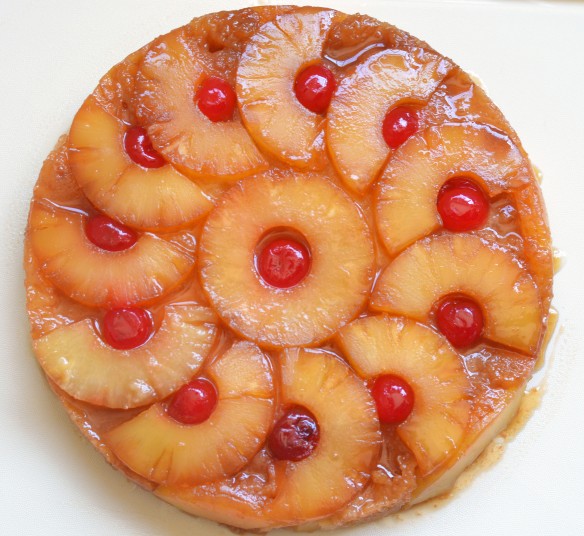 I'm not one hundred percent sure I've actually ever tasted one, and I've definitely never made one. However, this cake was a huge success. It's hard to go wrong with a thick layer of melted butter, caramelized brown sugar coating pineapples and maraschino cherries atop a moist cake! It's also quite pretty to look at.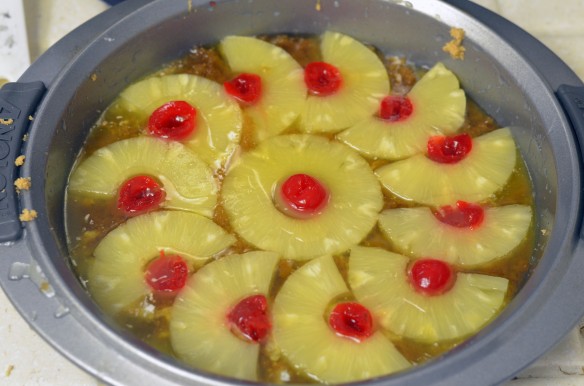 Seeing as it was my first time baking for this group of people, I hope my little work of art was impressive enough to earn me another opportunity to fill their bellies with butter and sugar!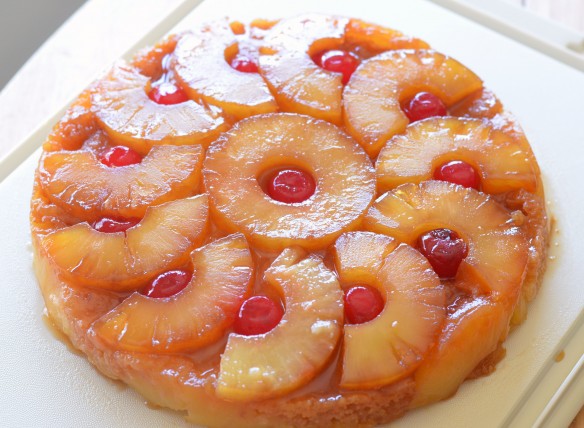 Not sure how long it lasts because it was gone that night!
Pineapple Upside Down Cake
serves ~8
1/2 cup unsalted butter, melted
3/4 cup light brown sugar, packed
1 20-ounce can of pineapple slices
** maraschino cherries
1 cup all-purpose flour
3/4 cup granulated sugar
2 teaspoons baking powder
1/4 teaspoon salt
1/2 cup buttermilk
1/4 cup Greek yogurt
1/4 cup pineapple juice, from the can of pineapple slices
2 tablespoons canola oil
2 teaspoons vanilla extract
Preheat the oven to 350º.
Pour the melted butter into a 9" cake pan, making sure to rub all along the sides.
Sprinkle the brown sugar atop the butter so it forms an even layer.
Place a pineapple ring in the center, then slice the remaining rings in half and fan out around the center ring. Place extra slices along the sides of the pan.
In a medium-sized bowl, mix together the flour, baking powder, and salt. Set aside.
In a large bowl, whisk together the buttermilk, yogurt, pineapple juice, oil, and vanilla extract.
Add the dry mixture to the wet mixture, mixing until just combined. Do not over mix!
Pour the batter on top of the pineapple layer, but do not fill more than 3/4 of the way full (you should have a little batter remaining).
Bake for approximately 40 minutes, or until a toothpick inserted into the center (don't press in too far and disrupt the pineapple layer!) comes out cleanly.
Allow to cool in the pan on a wire cooling rack. Wait at least an hour if not longer before inverting.
adapted from Averie Cooks