Top Pot Glazed Rings and Apple Fritters
I'm not sure if it was because we were following a Top Pot recipe that we got to eat ridiculously fresh from the fryer, or simply the fact that we got to truly feel and taste the love that went into making these doughnuts, but these doughnuts were the best we've ever had. We got up at 7AM on Sunday to make these babies, but weren't eating our breakfast until noon after all the risings, frying, and cooling. But it was absolutely worth it!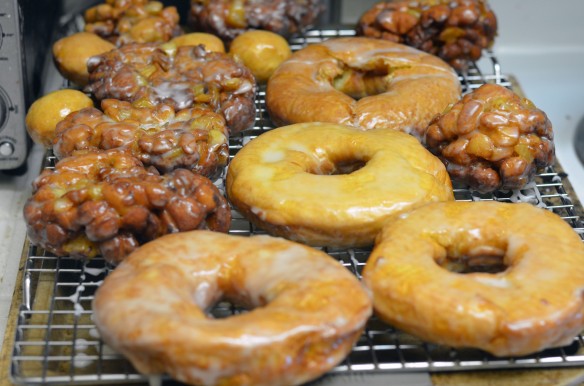 The mace in these doughnuts really gives them that authentic Top Pot taste. Top Pot uses agar in their glaze as a stabilizer, so that was definitely one known difference in the texture of the glaze, but not in taste. I was super excited about this endeavor because the basic glazed rings and the apple fritters use the same master dough. So we rolled it out, cut a few rings, then turned the rest into apple fritters. We've always sort of wondered how Top Pot makes their fritters to give them that interesting shape, and now we know (though ours were a much smaller scale).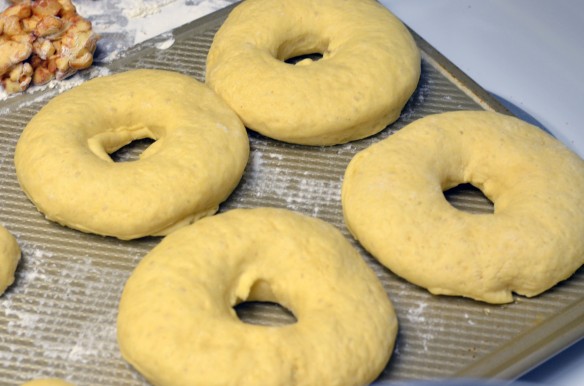 I'm already excited to make another recipe from the Top Pot cookbook, but I know we'll have to wait awhile since doughnuts are fried carb bombs. These would be a fun thing to make this upcoming weekend for Easter brunch!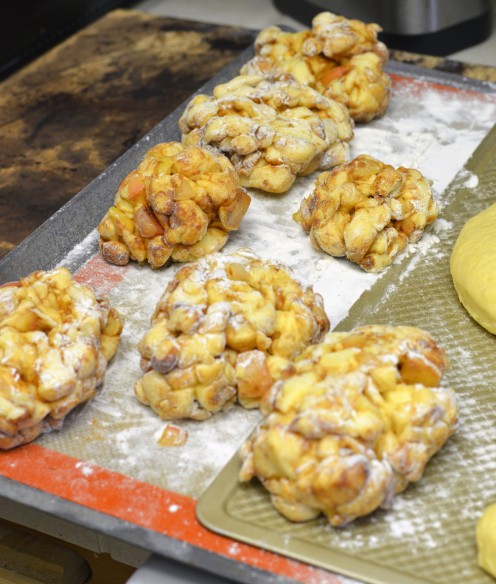 In the process, we've discovered Bella's favorite food...doughnuts (or perhaps just sugar). She was begging so hard, and when we finally broke down and gave her a doughnut hole, she just about went nuts with excitement!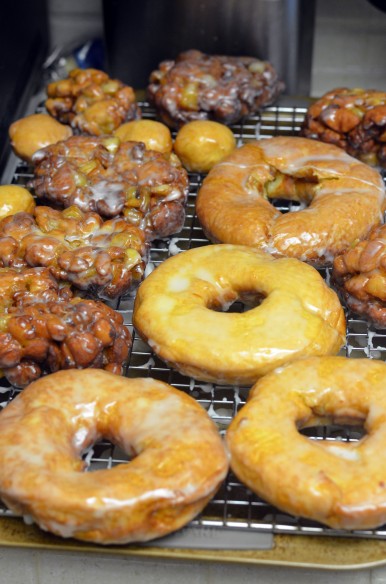 Top Pot Glazed Rings and Apple Fritters
yields approximately a dozen doughnuts
Basic Dough
3 tablespoons (4 packets) active dry yeast
1 cup very warm water
1/2 cup + 1 tablespoon granulated sugar
1/2 tsp baking powder
1/2 tsp ground mace
2 tsp iodized salt
4 cups bread flour (may need additional 1/2 cup if dough is too sticky)
1/4 cup shortening
3 large egg yolks
1/2 teaspoon vanilla extract
canola oil, for frying
Whisk together the yeast, water and 1 tablespoon of sugar in the bowl of a stand mixer. Let proof for 5 minutes.
Whisk together the remaining sugar, baking powder, mace, salt, and bread flour in a large bowl.
Add the shortening, egg yolks, and vanilla to the yeast mixture, mixing with the paddle attachment on low for a minute until the shortening is broken up.
Add 1/3 of the dry mixture to the wet mixture, mixing on low until incorporated, adding the remaining flour in two more batches,
Increase the speed of the mixer to medium and mix for another 2 minutes, kneading the dough.
Transfer the dough to a floured surface and shape into a flat disk that is about 6" in diameter, dust with flour, and cover with a dish towel.
Create a proofing box in the oven, by pouring boiling water into a large baking dish, setting it on the bottom shelf of the oven,. Then place the covered dough on the top shelf of the oven, and let the dough rise for about an hour or until doubled in size.
Transfer the dough to a lightly floured surface and use a rolling pin to roll it into a 12" circle. Use a doughnut cutter to cut out as many rings as desired. Use leftover dough to create apple fritters (see step 12).
Place the cut doughnuts onto two baking sheets sprinkled with flour making sure to leave the doughnuts at least 2" apart. Place baking sheets back in the oven and replace the boiling water in the baking dish. Allow the doughnuts to rise for 30-45 minutes.
Heat a large pot of oil to 350º and make sure your warm glaze in a large bowl. Fry the doughnuts on each side for about 30 seconds until golden brown on both.
Gently using tongs, transfer the fried doughnuts into the glaze, thoroughly covering with glaze, shaking off the excess, and transferring to a wire rack to cool. Allow to cool for 10-15 minutes.
APPLE FRITTER INSTRUCTIONS: Roll the dough into a square that is approximately 1/2" thick (size will depend on how much dough you have left. Spread the cooled apple mixture onto half of the dough.
Sprinkle the cinnamon then the flour on top of the apple mixture.
Fold the empty half of dough over the apple mixture.
Using a metal scrapper, or a knife, cut the dough into 1/2" strips vertically then 1/2" strips horizontally (creating a checkerboard pattern). You will end up with a bunch of little pieces and filling coming out, but this is ok.
Scoop the pieces up and rearrange, forming them into a log, then dust with generous amounts of flour. Cut the log every 1 1/2", or so to form the fritters.
Fry as you would the rings except allow them to fry for about 30 extra seconds per side. Glaze as you would the rings as well and allow to cool.
Apple Fritter Filling
2 medium tart apples, cut into 1/2" pieces
1/4 cup sugar
2 teaspoons lemon juice
1 tablespoons + 1 teaspoon cinnamon
1 tablespoon bread flour
Cook the chopped apples with the sugar and lemon juice in a frying pan over medium-high heat until sugar is dissolved, stirring frequently.
When the apples are soft after approximately 7 minutes, set aside and allow to cool.
Simple Vanilla Glaze
4 1/2 cups powdered sugar, sifted
2 teaspoons light corn syrup
1/4 teaspoon salt
3/4 teaspoon vanilla extract
1/2 cup hot water
Place the powdered sugar, corn syrup, salt, vanilla extract, and water in the bowl of a stand mixer fitted with a paddle attachment. Blend until all of the sugar is incorporated and the mixture is smooth. If glaze seems too thick, add more hot water a teaspoon at a time.
Glaze the doughnuts while they are hot and the glaze is warm.
Place the doughnuts on a rack for the glaze to dry and harden for 10-15 minutes.
slightly adapted from the Top Pot Hand Forged Doughnuts Cookbook