Beer Braised Short Ribs with Five Cheese Polenta
For the past couple of weeks, we've been buying our meats at a local butcher shop. It isn't cheap, but the quality and selection of meats is way better than that of our local Whole Foods, which ultimately we haven't been very impressed with compared to our former Bellevue one. We purchased an awesome grass-fed 35-day dry aged ribeye that easily would have cost $100+ at a steakhouse. We also picked up some short ribs, which developed into this amazing meal that was seriously fancy-restaurant-quality.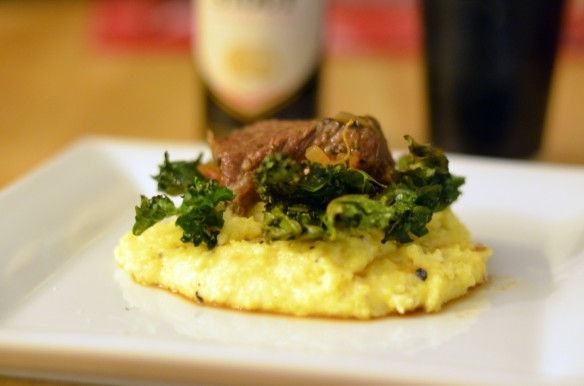 We had a bunch of random leftover cheeses from other dinners and lunch, so we had a pretty awesome combination of parmesan, pecorino, havarti, muenster, and cheddar. You don't have to use that many if it means specially buying five different cheeses, but it's a great way to use up the last little bits of cheese. The girls were sad because usually when there isn't enough extra cheese to do anything with, we give it to them as a special treat! We topped the polenta with some crispy kale that we baked in the oven after tossing with a bit of olive oil. Crispy kale AKA kale chips have become a pretty popular snack/side dish in our place lately.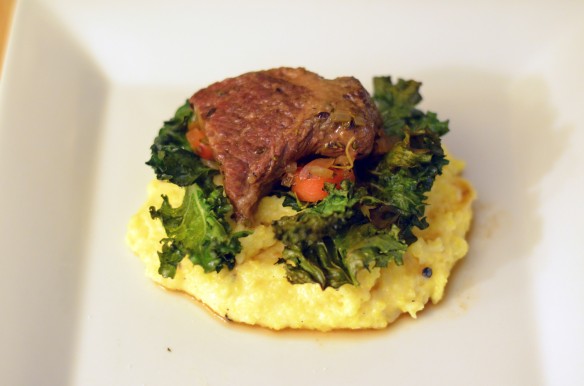 We braised the short ribs in the crockpot using a stout beer. We planned on using Guinness, but apparently plain old Guinness is too lowly to stock at our Whole Foods. Instead we bought a different stout (Murphy's Irish Stout), which Dustin really seemed to enjoy on its own and gave the meat great flavor, so I guess it was a blessing in disguise that Guinness wasn't available.
Beer Braised Short Ribs with Five Cheese Polenta
serves 2
Short Ribs
3/4 lb short ribs
2 large carrots, sliced
1 onion, diced,
3 cloves garlic, minced
2 cups beef stock
1 stout beer
salt
pepper
Season all sides of the short ribs with salt and pepper. In a skillet over medium heat, sear the short rib for about 5 minutes per side.
Ad all ingredients to a crock pot and then add the short ribs. Cook on high for a couple hours and then cook on low for a few more hours until meat is tender and delicious.
Crispy Kale
1 bunch of kale
2 tablespoons olive oil
salt
pepper
Preheat the oven to 350º.
Wash and completely dry kale.
Toss with olive oil and season with salt and pepper.
Bake for 10-15 minutes.
Five Cheese Polenta
1 cup polenta
2 cups milk
2 cups water
1 1/4 cup cheese, grated (we used parmesan, pecorino, havarti, muenster, and cheddar)
1 tablespoon unsalted butter
salt, to taste
pepper, to taste
In a large pot, bring milk and water to a boil.
Slowly stir in the polenta, whisking to prevent clumps.
Bring back to a boil, reduce to a simmer, stirring until thickened and smooth.
Stir in the cheese and butter.
Season with salt and pepper.