Cauliflower Chicken "Alfredo" Pasta
Lately things have gotten pretty busy and our homemade meals are few and far between. This is one of those few and far between meals. A healthy creamy sauce with no cream whatsoever and grilled chicken over noodles. Dustin was skeptical of a cauliflower-based sauce, and while I don't think he was convinced it could ever replace a rich, authentic Alfredo sauce, for a healthy weeknight replacement, I think he quite enjoyed the dinner.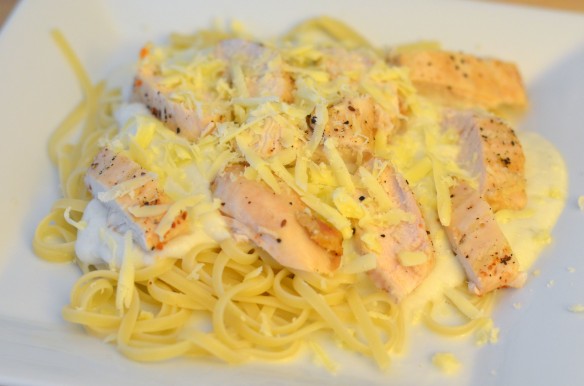 Cauliflower Chicken "Alfredo" Sauce
1 large head cauliflower, florets only
6 cloves garlic, chopped
2 tablespoons butter
2 cups vegetable broth
1 cup milk
1 tablespoon olive oil
salt, to taste
pepper, to taste
6 ounces fettuccine pasta
1/2 lb chicken breast, grilled
parmesan cheese for topping
Bring a large pot of water to a boil, cover and cook the cauliflower florets until soft (approximately 8 minutes). Set aside, but do not drain.
While the cauliflower is boiling, the chopped garlic in the butter in a small saucepan over medium heat until soft and fragrant. In the meantime cook the fettuccine noodles and grill the chicken.
Using a slotted spoon, transfer the cauliflower florets to a blender along with 1 cup of the cauliflower cooking water, the vegetable broth, milk, olive oil, salt and pepper. Blend until smooth. You can more broth or milk if you desire a thinner sauce.
Toss sauce over cooked noodles and top slices of grilled chicken.
sauce adapted from Pinch of Yum