LA Cupcake-Off: Bubba Sweets vs. Frosted Cupcakery
These cupcake locales don't quite qualify as being in LA seeing as they are located in Huntington Beach and Long Beach, but we were on our way to the OC for a day of beach fun with the puppies (since that area is actually somewhat puppy friendly) and made a few detours for cupcakes.
Frosted Cupcakery
Our first stop was Frosted Cupcakery in Long Beach. I got there right as they opened and had a hard time selecting which flavor I was in the mood for. In the end I went with a chocolate caramel toffee cupcake. The chocolate cake had a fluffy texture and was deep and rich in chocolatey flavor. There wasn't a lot of caramel frosting on top (so that could use a bit of improvement), but the flavor was superb and very concentrated, so it wasn't the problem it could have been. The edges were coated with toffee pieces which gave the cupcake a nice crunch. We weren't expecting the be blown away by a fairly basic chocolate cupcake, but we definitely were. Frosted also carried PupCake dog treats, which is a plus for them in my book!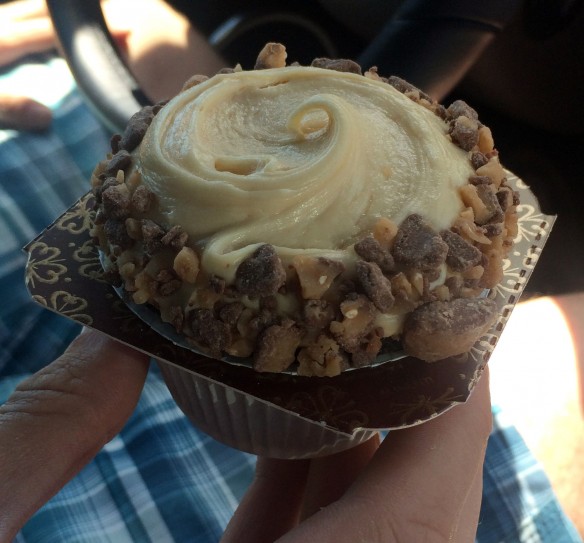 Bubba Sweets
Our next stop was Bubba Sweets in Huntington Beach, apparently a winner of Cupcake Wars on Food Network. I once again had a hard time selecting from the assortment of delicious looking flavors. Everything was so fancily decorated! I settled on a strawberry shortcake cupcake topped with a healthy dose of pink frosting, sprinkles and a chocolate covered strawberry. Best part is the cupcake was only $3, a bargain compared to some of the other places we've stopped at it. There was a lot of strawberry flavor in this cupcake with a perfect texture and a strawberry jam surprise in the middle. The frosting was more plentiful and much lighter than Frosted's with a more whipped-cream-like texture. The decorations made the cupcake whimsical and fun− chocolate covered strawberries make everything better.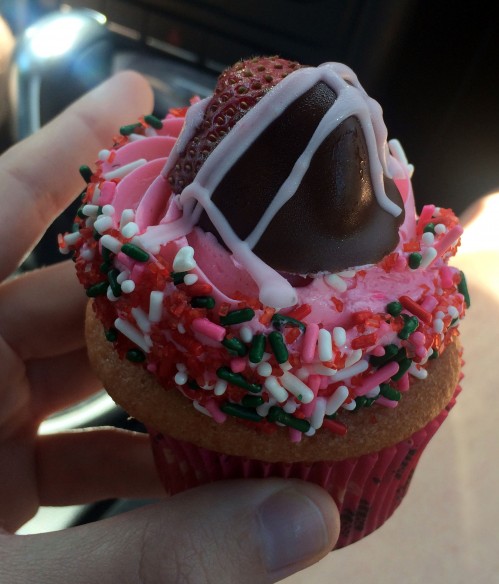 The Verdict
We debated and debated over this one and thought both of these were better than last times winner, SusieCakes. Dustin claimed these were two of the best cupcakes he'd ever had. The deep, rich chocolate cake from Frosted kept calling our name as the champion, but that strawberry shortcake really did make the decision quite difficult. Overall it might not have been the most fair comparison since I picked two very different cupcakes, but the tentative winner for this round is Frosted. However we vow that next time we head south to the dog beach in Huntington, we'll go back and try one of their chocolate cupcakes for a more fair comparison.