LA Cupcake-Off: Vanilla Bakeshop vs. Susie Cake
After a particularly rough couple of days, I really needed some sugar in my life, so we decided it was time to kick off the next version of the LA dessert challenge: cupcakes! Our rules for the cupcake-off are a little more lenient than the chocolate chip cookie version. Instead of ordering the same variety of cupcake at each place, we are letting our eyes do the picking and judging more on general cake/frosting flavors and textures.
To start off the challenge, we kept it local...Vanilla Bakeshop down in Santa Monica and Susie Cakes, a stone's throw away from our apartment.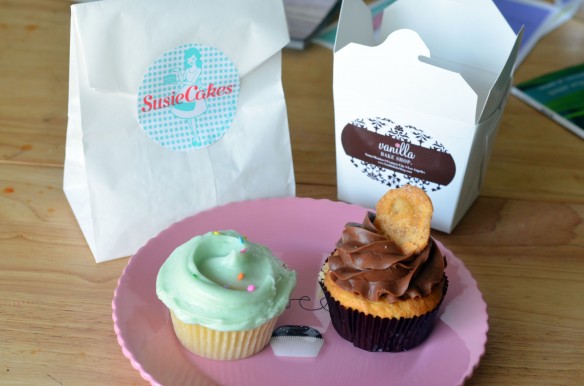 Vanilla Bakeshop
We stopped into this tiny, cutely decorated bakery the weekend before Cinco de Mayo, so we were swayed by their cinnamon chocolate churro cupcake. The presentation was nice with a heaping swirl of milk chocolate frosting on top and a crispy cinnamon churro chip as a garnish. The frosting was not the most flavorful I've ever had, but it was incredibly light and almost whipped cream-like. The cake itself was light and fluffy with a texture somewhat like that of an angel food cake. The cinnamon flavor was present, but not overwhelming, and I personally could have used a little more in a churro cupcake. The large cupcakes at Vanilla Bakeshop ended up costing $4, which is a little on the pricier side, and while good, I was ultimately a little let down after the hype of seeing a chocolate churro cupcake.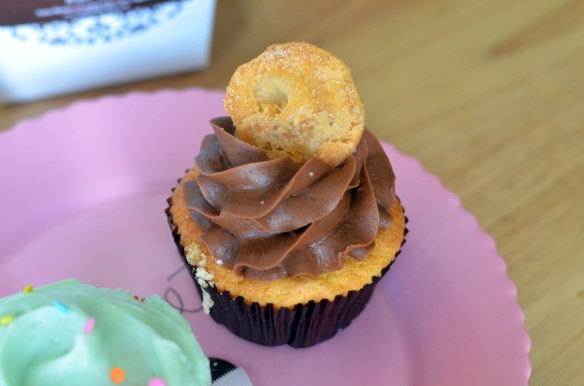 Susie Cakes
This joint was hopping when I walked in on a Saturday afternoon. The decision on what cupcake to order wasn't quite as easy as the one at Vanilla, but in the end I went with a plain vanilla stuffed with vanilla frosting and topped with vanilla frosting. While Vanilla Bakeshop came off a little fancier, Susie Cakes seemed a little bit more fun, quirky, and homemade (but not in a bad way) with a whimsical blue frosting and sprinkles. The texture of the cake was slightly more dense and moist than Vanilla's cupcake. I honestly couldn't tell the cupcake was frosting filled because the frosting from the top was a bit dominating. The frosting on it's own was a tad overly sweet, but I'm not complaining, and was balanced by the nice flavor of the vanilla cake.
The Verdict
Ultimately, we both chose Susie Cakes. Vanilla Bakeshop might have looked a little bit more professional, and I think I actually liked the texture of their cupcake better. In the end, however, it came down to flavor for us, and Susie Cakes won purely because there was more of it!