Strawberry Basil Ice Cream with Golden Oreos
The best way to end a long, warm day is with a big bowl of ice cream. The combination of strawberry and basil is a popular one, and I haven't really ever experimented with it. Until now. This ice cream has been a godsend after some incredibly brutal days. First you steep basil in milk and cream, similar to making tea, to infuse it with basil flavor. Then you turn it into a custard with fresh strawberry puree. And as if I couldn't leave it well enough alone, I added chopped Golden Oreos while the ice cream was mixing. It was a great way to kick off all of the ice cream making I'm planning for this summer and over the next few weeks. We may actually be hitting triple digits in LA later this week− something I haven't experienced since 2011 back in Texas!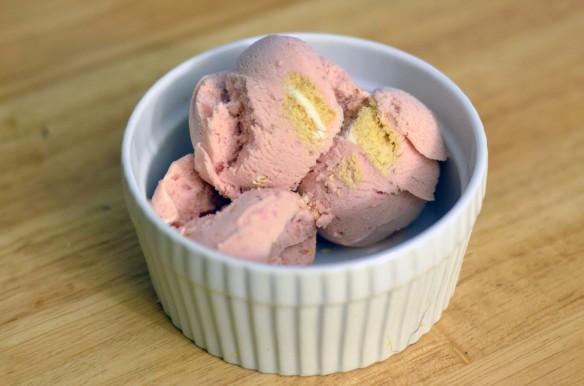 Strawberry Basil Ice Cream with Golden Oreos
2 cups heavy cream, divided
1 cup milk
2/3 cup granulated sugar
1 teaspoon salt
1 cup basil, torn and tightly packed
5 egg yolks
1 pint fresh strawberries, pureed
15 Golden Oreos, roughly chopped
Heat 1 cup of cream and milk in a saucepan. Stir in granulated sugar and salt and stir until dissolved.
Just before the mixture is about to boil, remove from heat and add in the basil.
Allow the basil to steep in the milk for about an hour and a half.
In a medium sized bowl, whisk the egg yolks together.
Reheat the cream mixture. Slowly add about half of the hot cream mixture to the egg yolks stirring constantly to ensure the eggs do not curdle.
Add the egg yolk mixture to the saucepan and cook for about 5 minutes or until thickened.
Place the remaining cream in a large bowl then stir in the warm custard followed by the strawberry puree.
Allow mixture to come to room temperature before covering and placing the in the refrigerator to thoroughly chill.
Churn according to ice cream maker's instructions, adding in the Golden Oreos during the last 5 minutes of churning.
Transfer to a freezer safe container and freeze until desired texture is reached.