Blueberry Oatmeal Breakfast Cookies
I was highly considering making some "traditional" dessert-like oatmeal cookies with blueberries and chocolate chips, but then decided to make them a little healthier so they could be deemed oatmeal breakfast cookies.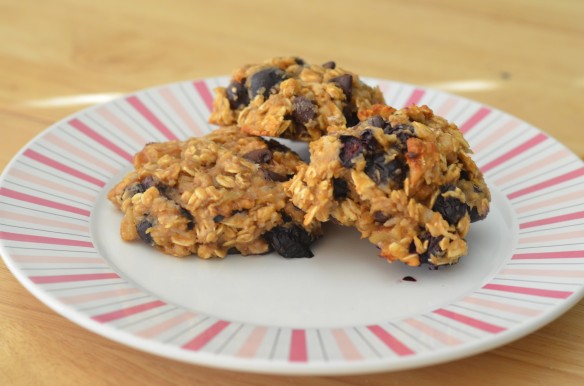 With Dustin as my sous chef, late one night we whipped these up together in under half an hour just throwing ingredients together and only dirtying one bowl. Well worth it for a quick, easy, and sweet breakfast treat.
Blueberry Oatmeal Breakfast Cookies
yield ~8 cookies
1/2 cup applesauce
1/2 cup vanilla yogurt
2 medium bananas, mashed
1/4 cup honey
1 cup + 1 tablespoon whole wheat pastry flour
2 teaspoons cinnamon
1 teaspoon baking powder
1/2 teaspoon salt
1 cup old-fashioned oats
1/2 cup walnuts, chopped
1/2 cup mini chocolate chips
1 cup blueberries
Preheat the oven to 350º and line a baking sheet with a silicone baking mat or parchment paper.
Combine the applesauce, yogurt, mashed bananas, and honey in a large bowl.
Create a well in the center of the wet mixture then add in 1 cup of flour, cinnamon, baking powder, salt, and oats, then mix together until just combined.
Toss the blueberries in a tablespoon of flour.
Fold in the walnuts, chocolate chips, and blueberries.
Form into 8 balls, lightly flatten and place on baking sheet.
Bake for 12 minutes then allow to cool on the baking sheet for 5 minutes before transferring to a wire cooling rack to finish cooling.