Frozen Raspberry Margaritas
Dustin and I prefer margaritas on the rocks, but sometimes a frozen margarita really hits the spot on a hot day. We had some fresh berries in the fridge from the farmer's market, so we decided to make some blackberry margaritas. You can use any berry desired, but that's what we had. Just make sure you strain the blackberry mixture before blending or you'll end up with a funky textured drink.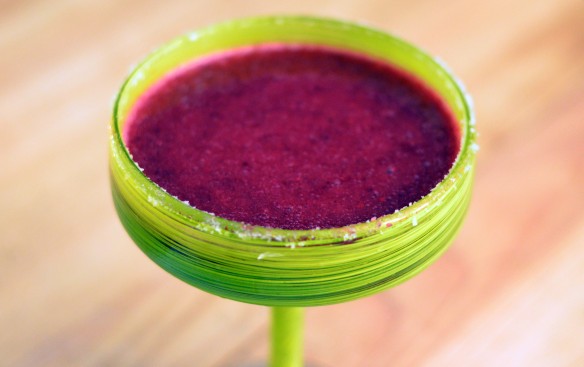 Frozen Raspberry Margaritas
yields 2 large margaritas
1 pint fresh blackberries
2 teaspoons granulated sugar
1 lime, juiced
2 cups ice
4 shots tequila
2 shots orange liqueur
salt, for the rim
Combine the blackberries, sugar, and lime juice in a small saucepan over medium heat, bringing to a boil then reducing to a simmer until a thick blackberry jam forms.
Press the blackberry mixture through a strainer and allow to come to room temperature.
Place the ice in the blender followed by the tequila, orange liqueur, and blackberry mixture.
Blend until smooth.
Use the leftover lime wedges to rim your margarita glasses with lime juice then rub the rims with salt.
Pour margaritas and enjoy!