Kettle Corn Cookies
It's almost "officially" summer! Ice cream is perfect summer dessert, but since that's tough to bring to a party where everything has to sit out, I tried to think of another dessert that would capture the essence of summer. Then I remembered seeing kettle corn cookies at Trader Joe's, and thought sweet and salty kettle corn would be an awesome addition to a cookie and would celebrate the arrival of summer. Dustin, Bonnie, and I used to head to Marymoor Park in Redmond during the summer for outdoor movies, and this little stand made the best fresh kettle corn I've ever tasted. These cookies would taste even better with some freshly popped kettle corn instead of the store-bought kind, but the nonetheless, these cookies served as nice little nostalgic reminder back to those summer nights in the park.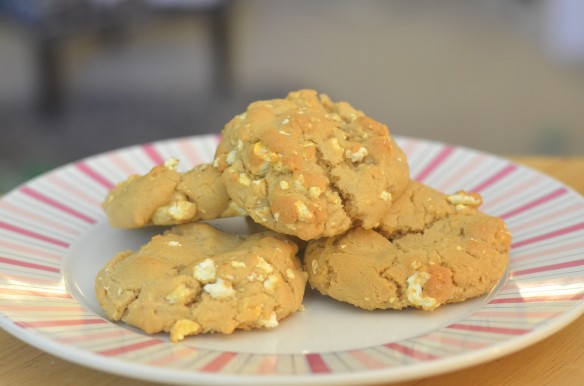 I brought some of these cookies to a school party and Dustin took some into work at his new office. I think my adventurous baking might intimidate some because a few people skipped out on the "popcorn" cookies and went straight for the mainstream chocolate chip cookies and snickerdoodles. But the more adventurous individuals like myself seemed to enjoy this unique cookie and they seemed to go over well at Dustin's office!
I used browned butter to complement the kettle corn flavor. The larger chunks of kettle corn themselves get nice and crunchy, while the cookies themselves stay soft thanks to the cornstarch. All in all, a fun way to start off my summer baking!
Kettle Corn Cookies
yields ~2 1/2 dozen 2" cookies
1 cup unsalted butter
1 1/4 cup brown sugar, packed
1/2 cup granulated sugar
1 large egg, room temperature
2 teaspoons vanilla extract
2 cups all-purpose flour
1/2 teaspoon baking soda
1/2 teaspoon baking powder
1/4 teaspoon salt
1/2 teaspoon cornstarch
3 cups kettle corn, lightly crushed
Melt the butter in a saucepan over medium heat, stirring and cooking until the butter is golden brown with darker brown specs throughout. Remove from heat and allow to cool.
Preheat the oven to 350° and line baking sheets with silicone baking mats or parchment paper.
Once cooled, combine the butter, sugars, egg, and vanilla extract in a large bowl with a hand mixer.
In a medium-sized bowl, sift together the flour, baking soda, baking powder, salt, and cornstarch.
Slowly add the dry ingredients to the wet ingredients and mix until just combined.
Fold in the kettle corn.
Use a medium-sized cookie scoop to scoop out balls of dough and flatten slightly when placed on the baking sheet. Note: there is no need to chill the dough, but it does make it easier to work with if chilled for about 1/2 hour.
Bake for 10-12 minutes until edges are golden brown and the centers look slightly soft.
Allow to cool on pan for 5 minutes before transferring to a wire cooling rack.