LA Cupcake Challenge: Big Man Bakes vs. Lark Cake Shop
Even though I don't care for beer, I still enjoy going to craft breweries as a fun place to chill out with Dustin while he samples a variety of brews. This past weekend, we stopped by Angel City Brewery downtown, and while I admit I had a great time and can't wait to back with Dustin (and the puppies), going to Angel City was just an excuse for me to head into downtown and try another stop on our cupcake challenge. On our way home from purchasing cupcakes, we stopped at a scenic overlook along Mulholland Drive and enjoyed our cupcakes with the backdrop of a spectacular view of Los Angeles (and lots and lots of tourists).
Big Man Bakes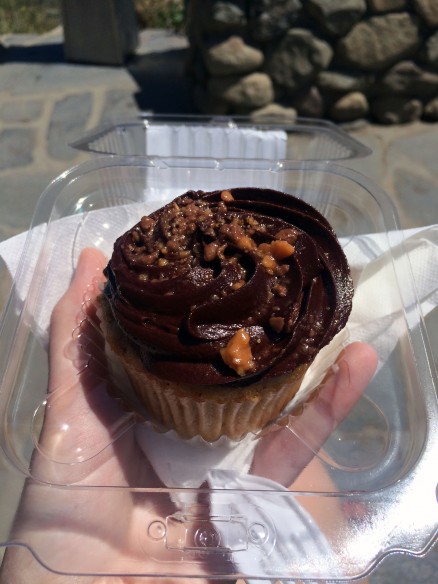 First stop was Big Man Bakes, a tiny shop downtown with a cool story about a linebacker-sized guy who is an amazing baker and decided to open his own cupcakery. The Big Man was not around when we stopped by, but the employees were super friendly and chatted us up. Dustin told one of them about us eating cupcakes throughout the city of LA, and she told us she hoped theirs was the best and to offer any feedback. The employees recommended several cupcakes, and we decided upon the Butterfinger version, which is a current special, and has been selling out everyday. Other than the crushed Butterfinger pieces on top, I'm not sure what makes it a Butterfinger cupcake versus a peanut butter cupcake with chocolate frosting, but I'm not complaining. The cupcake was quite large (actually XL as described by the cashier) and was tender and moist. The frosting was rich, although I could have used a little bit better frosting to cake ratio since the cake was so big. Overall it was quite the indulgent cupcake.
Lark Cake Shop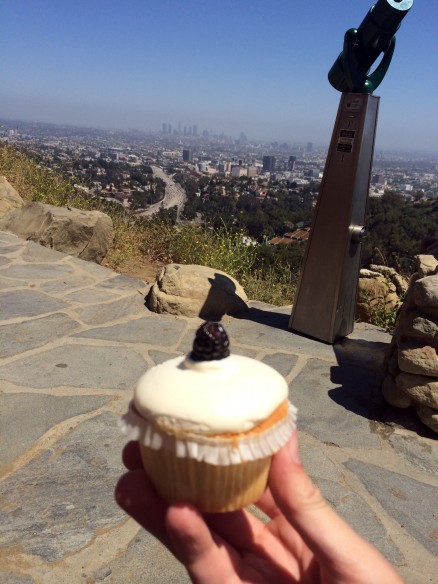 The next stop was Lark Cake Shop in Silver Lake, a little bit northwest of downtown, but not terribly far out of way. The reviews online seemed to suggest the berry shortcake cupcake was the way to go. They had a strawberry and a blackberry-topped version, and I went with the blackberry one. The cake was light and tender and almost angel food cake like, but not exactly. There was a lovely pastry cream filling in the middle and it was topped with a light almost whipped-cream like frosting. It was in many ways the opposite of Big Man Bakes, as it didn't feel particularly indulgent, but light and airy, which can be a good thing or bad thing depending on what you are in the mood for. What I was somewhat disappointed about was that other than the blackberry sitting upon the top, there was no additional berryness to the cupcake. For a cupcake called berry shortcake, I was expecting a bit more berry flavor and perhaps a berry filling.
The Verdict
Once again, maybe not the best two cupcakes to make a good comparison, but I think we'll go with Big Man Bakes, which was definitely a richer eating experience. The lack of blackberry-ness really threw me off from Lark (but it was still a delicious cupcakes and quite perfect for summer if it had been otherwise named).