Pineapple Marinated Pork Tenderloin
I've never really gotten behind Hawaiian pizza. That much pineapple on a pizza just seems like it would be too sweet, even for someone like me. But the idea of marinating pork in pineapple is something I was totally on board with. This grilled pork tenderloin came out better than we expected. This meal (along with some Copper River salmon) was a great way to christen the start of summer grilling season!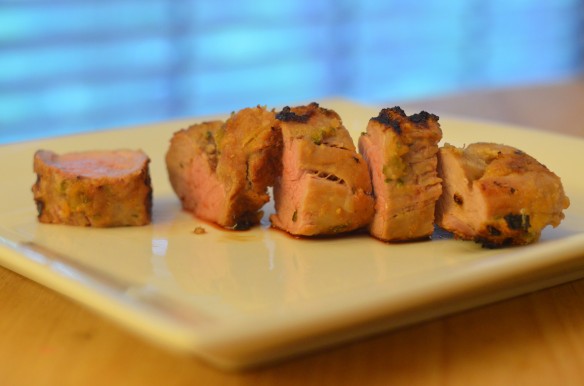 Pineapple Marinated Pork Tenderloin
2 tablespoons soy sauce
1 tablespoon hot sauce
1 cup crushed pineapple
1/2 cup cilantro
1 lime, zest and juice
1/4 cup brown sugar
2 cloves garlic
1 teaspoon ginger, freshly grated
salt, to taste
pepper, to taste
1 lb pork tenderloin
Combine all ingredients up to the pork tenderloin in a food processor and process until smooth.
Place marinade and pork tenderloin in a large plastic bag. Place in the refrigerator and allow to marinate for at least 4 hours.
Grill tenderloin for about 6 minutes per side. Allow to rest for a few minutes before slicing into medallions.