Reverse Cookies 'n' Cream Ice Cream
This ice cream is so simple, yet has quickly become one of our favorites. The idea behind this ice cream was to make cookies 'n' cream ice cream but in reverse, so using chocolate ice cream instead of vanilla ice cream and Golden Oreos instead of traditional chocolate ones. We can't quite place our finger on what makes this ice cream so much more outstanding than any other, but for some strange reason, it really is. The chocolate ice cream on its own is amazing, so if you are looking for a killer chocolate ice cream recipe, this is it (and if you eat the ice cream straight from the ice cream maker without freezing it, it tastes and has the texture of a Wendy's Frostie, FYI). The Golden Oreos are really just the icing on the cake, providing a fun texture.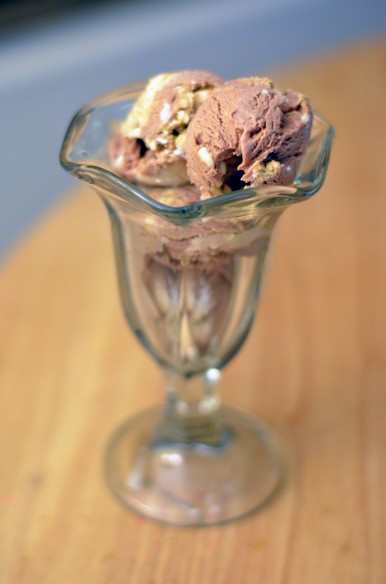 We've been eating this nightly for dessert for the past week, and it never gets old!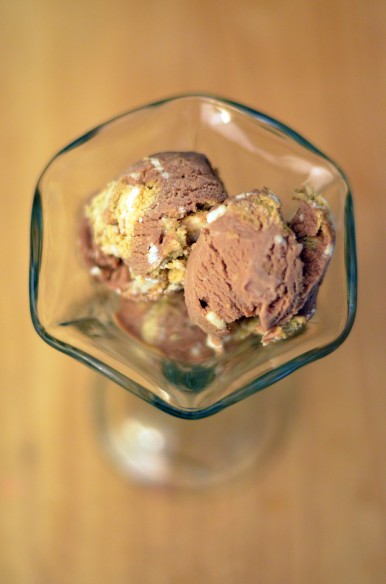 Reverse Cookies 'n' Cream Ice Cream
3/4 cup sugar
1 cup whole milk
1/4 teaspoon salt
2 tablespoons unsweetened cocoa powder
3 egg yolks, lightly beaten
3-ounces milk chocolate, finely chopped
2 cups heavy cream
1 teaspoon vanilla extract
~24 Golden Oreos, lightly crushed
Combine the sugar, milk, salt, and cocoa powder in a medium sized saucepan over medium heat, stirring until the mixture is smooth and all of the sugar is dissolved but not boiling.
In a small bowl, whisk together the eggs.
Slowly add about half of the milk mixture to the eggs, whisking constantly to ensure the eggs don't curdle.
Add the egg mixture back to the saucepan and cook for several more minutes over medium heat until the custard thickens.
Transfer the mixture to a heat proof bowl.
Stir in the milk chocolate, cream, and vanilla extract until smooth.
Allow to come to room temperature, cover and chill in the refrigerator for at least several hours until thoroughly cool.
Churn the ice cream in an ice cream maker according to manufacturer's instructions, add in the crushed Golden Oreos during the last five minutes of churning.
Transfer to a freezer safe container and allow to freeze until desired texture is reached.
ice cream slightly adapted from AllRecipes