Taco Lasagna
Best use of leftover tortillas from making loads of enchiladas? Taco lasagna. Since you don't need to roll the tortillas, they can be slightly stale, which if  you tried to use in enchilada making, you'd end up with enchiladas that are falling apart (as we have experienced personally lately).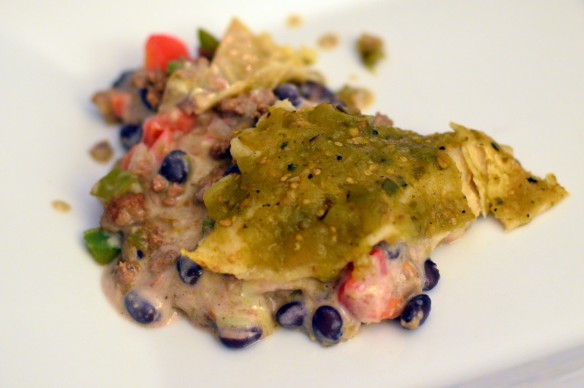 The concept is pretty simple. Use corn tortillas rather than lasagna noodles and replace ricotta and Italian flavors with sour cream, pepper Jack cheese, and all of the salsa you can handle. This meal sort of ends up being like stacked New Mexican enchiladas, but I like calling it taco lasagna better!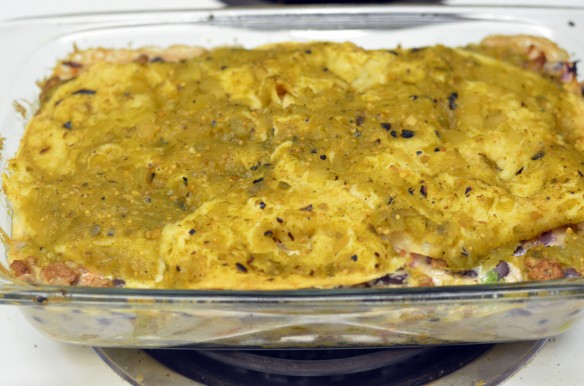 Taco Lasagna
yields 1 11"x7" baking dish
olive oil
1 red onion, chopped
2 cloves garlic, chopped
1 lb lean ground beef
taco seasoning, to taste
9 corn tortillas
1 cup tomatillo salsa, divided
1 cup sour cream
2 cups shredded Mexican cheese
2 tomatoes, chopped
1/2 can black beans
Preheat the oven to 350º. Spray an 11"x7" baking dish with non-stick cooking spray.
In a large skillet cooke the red onion and garlic until soft and fragrant.
Add in the ground beef along with the taco seasoning and cook until no longer pink.
In a large bowl, combine 1/2 cup of salsa, sour cream, cheese, tomatoes, and black beans.
Line the bottom of the baking dish with 3 corn tortillas.
Spread about half of the salsa sour cream mixture on top and cover with half of the cooked ground beef.
Place another layer of 3 tortillas down, cover with remaining sour cream salsa mixture and ground beef.
Finish with final 3 tortilla and sprinkle with remaining salsa.
Bake for 35-40 minutes then allow to cool for several minutes before slicing and serving.