Beef Fajita Burger
We spent 4th of July with this delicious monstrosity of a burger in our bellies. Inspired by this chicken fajita burger, we replaced the chicken fajitas with grilled skirt steak marinated in lime, orange juice, and tequila. Queso dripping out of the sides and a little guacamole on top makes it the perfect ode to Tex-Mex.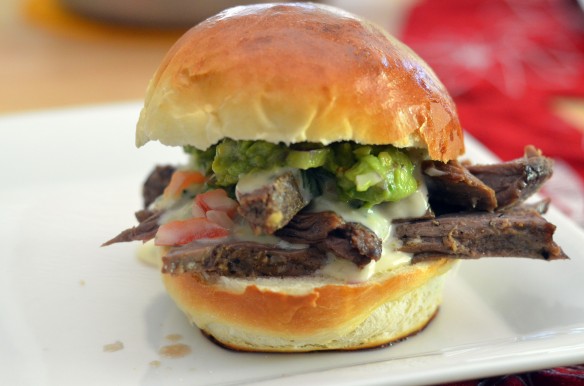 Making homemade buns really takes this meal to the next level, as does pretty much including any freshly baked homemade carb in your dish. We made a light brioche bun (as well as a few hot dog buns...same recipe, just shaped slightly differently) to serve these burgers on, and we went into hamburger heaven!
We intended to eat hot dogs later in the evening, as good, patriotic Americans do on the 4th, but we were so stuffed from these fajita burgers, all we could manage was a slice of pie!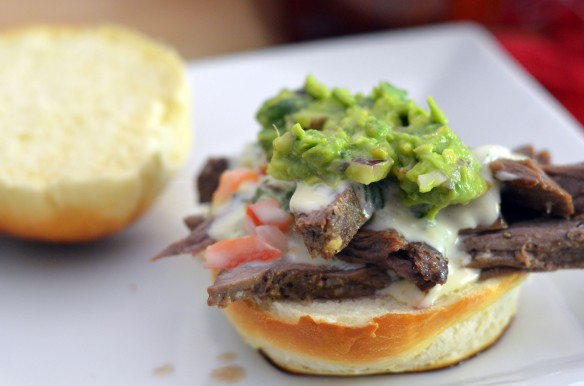 Side note: Dustin stumbled across an awesome article about food in LA for transplants that talked about a breakfast taco joint called Home State in East Hollywood. After a hike through Fryman Canyon, we stopped by and were pleasantly surprised by solid bean and cheese tacos in soft flour tortillas, really tasty chorizo, and Tex-Mex style queso (though now we make a damn good version at home). This Texan was super pleased. I wish we lived closer, but it will be a regular stop whenever we hit up that side of town.