BLTA Pasta
I know the final product was not what Dustin was expecting when I told him I was making him BLTA pasta, but in the end I think he was pleasantly surprised with how nice and gourmet-feeling this dish came out. Typically a BLT is not what you'd consider fancy, but take all of its standard ingredients and turn them into an inspired pasta dish, and you end up with a lovely Italian dinner reminiscent of a creamy vodka sauced pasta. I think creme fraiche might even be better than heavy cream when it comes to making a creamy pasta sauce, FYI, after tasting this dish!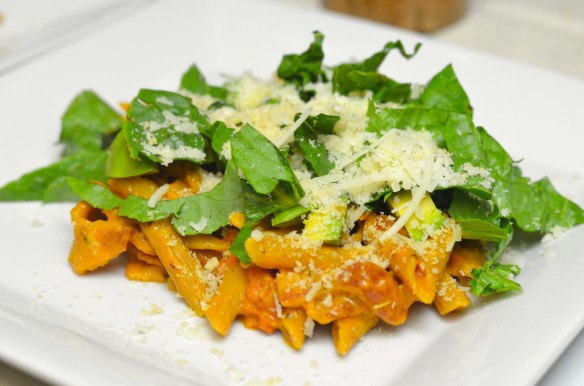 Now that I'm a full-time student, I don't have nearly as much time to cook dinners and have them waiting on the table when Dustin gets home from work. Usually we cook together now (or eat take-out), so when I did have the opportunity to stay at home one day, I seized the opportunity to have a home-cooked meal waiting for Dustin when he arrived home.
This was originally supposed to be just a BLT pasta, slightly adapted from this Rachael Ray recipe, but we had purchased a bag of avocados and a few were sitting around with no planned purpose, so I thought what the heck and decided to add the extra A to the end.
BLTA Pasta
serves 4
1 lb penne pasta
1 tablespoon extra virgin olive oil
6 slices thick-cut bacon
2 shallots, minced
4 cloves of garlic, minced
1 tablespoon tomato paste
1/2 cup white wine
1 pint cherry tomatoes
1 teaspoon dried basil
1 teaspoon rosemary
1 teaspoon parsley
1 teaspoon thyme
salt, to taste
pepper, to taste
1/2 cup creme fraiche
1/2 cup romaine lettuce, shredded
1 medium avocado, diced
Bring a large pot of water to a boil and cook the pasta until al dente. Drain and set aside
While the water is heating up, heat 1 tablespoon of olive oil on a large pan and cook the bacon until crisp. Set aside. Once cooled, chop the bacon into 1/2" pieces.
In the same pan where you cooked the bacon, cook the shallots and garlic for a couple of minutes over medium heat until fragrant.
Add in the tomato paste, cook for a minute then deglaze with the wine.
Add the cherry tomatoes and all of the herbs and seasonings then cover the pan, cooking for about 8 minutes until most of the tomatoes have burst but there are still still some largish chunks of tomato.
Stir in the creme fraiche then add in the pasta and bacon then toss to coat and make sure everything is thoroughly heated.
Plate and top with lettuce and avocado chunks.
slightly adapted from Rachael Ray