Blueberry Mint Pie
This blueberry mint pie was inspired by my favorite lemonade flavor at a local upscale cafeteria restaurant. I've started stopping by after my barre workout, which pretty much cancels out all the hard work I've just done. It's just so refreshing to sip on during my walk home in the California sun. I started thinking how else I could incorporate these flavors together, and pie it was decided upon. I made this on July 4th for just the two of us (as we played backgammon and went the bed at 10:30 like old people), and we promptly ate about 3/4 of it over the next couple of days before we decided we needed to throw the rest out and eat a little bit healthier. This has been one of Dustin's favorite pies, and says it has a gourmet nature to it.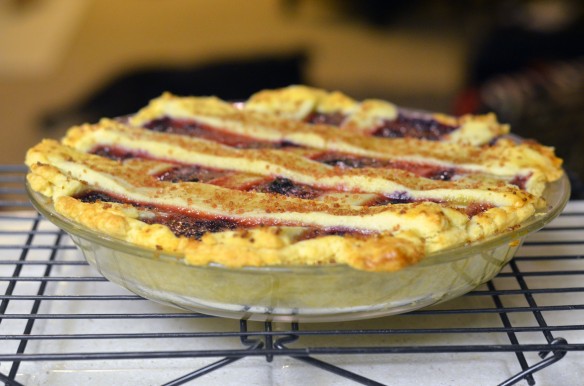 Nice and refreshing, just like my favorite blueberry mint lemonade on a hot summer's day!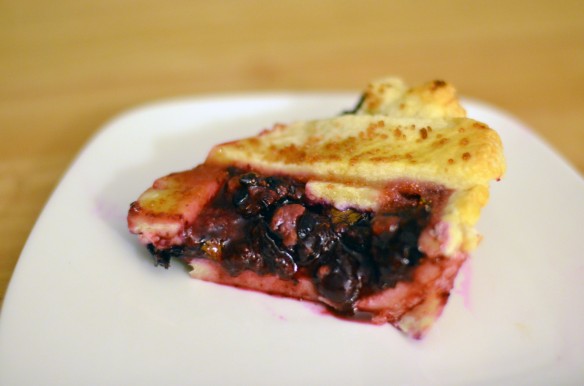 Blueberry Mint Pie
Crust
3 cups all-purpoes flour
1/2 teaspoon salt
2 tablespoons granulated sugar
12 tablespoons cold butter, cut into 1" pieces
1/3 cup shortening
1/2 cup ice cold water
1 egg + 1 tablespoon water, mixed
Combine the flour, salt, and sugar together in the bowl of a food processor.
Pulse the mixture while adding the butter and shortening until the butter is cut into small pea-sized pieces.
Slowly add in the water while pulsing until a dough is formed.
Divide the dough into two balls and flatten out into two discs. Wrap in plastic wrap and refrigerate for at least an hour.
Let soften about 10 minutes on the counter before rolling out. Preheat oven to 350º.
Roll out one of the discs to fit a 9" pie pan.
Place in pan, fill with beans, then bake the pie crust for 15 minutes. Allow to cool for about 15 minutes before handling.
While the crust is baking, make the filling (see below) and roll out the other disc out and cut into 7-8 strips. Place in fridge so they stay cool.
Once filling has been poured into crust, cover with crust strips, half vertically and half horizontally, pressing the edges of the strips and the edges of the pie together gently.
Brush pie with an egg wash then bake for approximately 45 minutes.
Allow to cool completely (~6 hours was good for us) before slicing and serving.
Store in the fridge. Tastes greats great the second day served cold as well!
Filling
2 pints fresh blueberries
1 cup granulate sugar
1/4 cup mint, chopped
1 lemon, juiced
2 tablespoons cornstarch
1 teaspoon vanilla extract
1/4 teaspoon salt
Crush the blueberries in a medium sized bowl until most of their juices have been released.
Add in the remaining ingredients and stir.
Pour into pie crust and finish with instructions above.