Cake Batter Cheesecake Bars
We celebrated the 35th "birthday" of a weekly meeting on the topic of memory that my graduate advisors host. The majority of the alumni of this meeting have gone on to big research careers. I've only been a part of this meeting for a year, but it has been a great learning experience, and I wanted to do my part and bake a birthday cake.
Though learning to make pretty cakes is still on my ever-growing list of things I'd like to accomplish, instead of an actual cake that would require decorating, I decided to make some cheesecake bars with all of the flavors of a classic Funfetti cheesecake.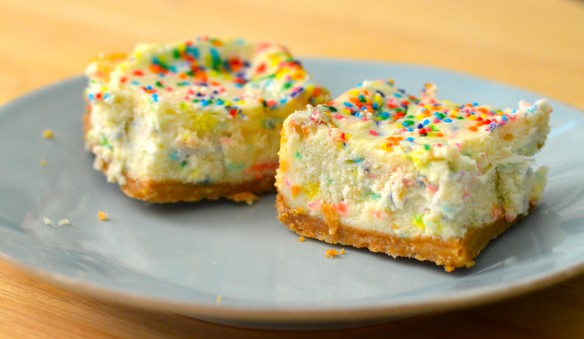 Beware! These little buggers are addictive!
Cake Batter Cheesecake Bars
yields 2 dozen
Crust
1 package (16.6 ounces) Golden Oreos
6 tablespoons butter, melted
Preheat oven to 350º.
Place the Golden Oreos in the bowl of a food processor and pulse until cookies are a fine crumb.
Slowly add the butter to the cookie crumbs and pulse until incorporated.
Press into a 13"x9" cake pan.
Bake for 10 minutes until crust is barely set.
Set aside and allow to cool.
Filling
32-ounces cream cheese, softened (3 1/2 packages)
1 cup sour cream
1 1/2 cups Funfetti cake mix
1 cup granulated sugar
3 eggs
1 teaspoon vanilla extract
1/2 cup sprinkles, some reserved for topping
In the bowl of a stand mixer, combine the cream cheese and sour cream until smooth. Scrape down the sides of the bowl if necessary.
Add in the cake mix and sugar.
Add in the eggs one at a time and mix.
Add in the vanilla and about 3/4 of the sprinkles.
Pour into cooled crust, sprinkle with remaining sprinkles, and bake for 30 minutes until center is set.
Allow to come to room temperature then cover and store in the refrigerator. Allow to cool completely before slicing into 24 rectangles.