Caramelized Peach Caprese Salad
Caprese salads are definitely my meal of choice for the summer. An upgraded peach version has been on the middle of my summer to-do list for awhile. However, this dish jumped to the top of the list when I saw this recipe for a caprese salad with caramelized peaches. We didn't have smoked salt, but I was still sold. Caramelizing the peaches hides if they aren't quite perfect, which frankly they never seem to be when we buy them, and allows me to incorporate sugar into my dinner. It's pretty much a win-win situation!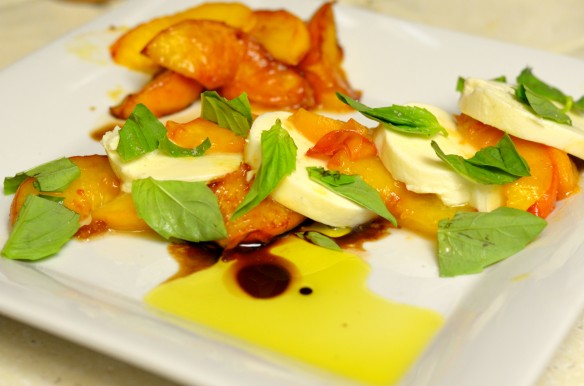 Bonus− leftover peach slices (if there are any) can be used as an ice cream topping!
Caramelized Peach Caprese Salad
serves 2 for dinner
2 tablespoons unsalted butter
3 large peaches, sliced into 1/4" slices
1 tablespoon brown sugar
1/3 cup fresh basil leaves
6 ounce log fresh mozzarella, sliced into 1/2" slices
3 tablespoons high quality olive oil
2 tablespoons high quality balsamic vinegar
coarse salt, to taste
freshly ground black pepper, to taste
Melt butter over medium heat.
In a medium sized bowl, toss the peaches with brown sugar.
Add the peaches and cook for several minutes on each side until caramelized and browned.
Layer caramelized peaches with basil leaves and mozzarella slices across a plate.
Drizzle with olive oil and balsamic vinegar and sprinkle with salt and pepper.