Chipotle Peach Pie
This chipotle peach pie will shock and awaken your taste buds! I fully expected this pie to be a little bit smoky and hot when I first bit into it, and even I was still surprised. But in a good way− I kept going back for more and more! You'll never go back to boring peach pie again!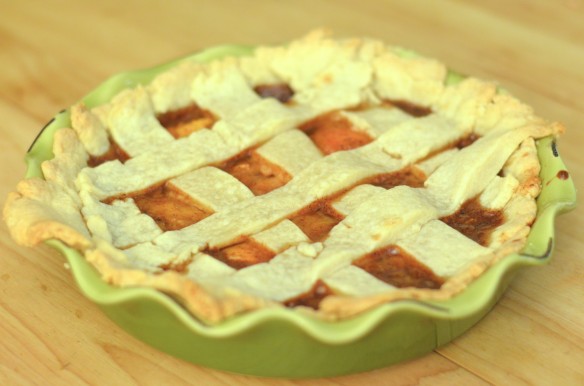 The smokiness of the chipotle powder pairs well with the sweetness of the peaches, and of course, cinnamon complements both well. Next time I might cut back on the chipotle powder just a smidgen because it did seem to be bordering on too much (and Dustin and I like things on the hotter side), but overall I was blown away by the simplicity, yet complexity of flavors in this pie.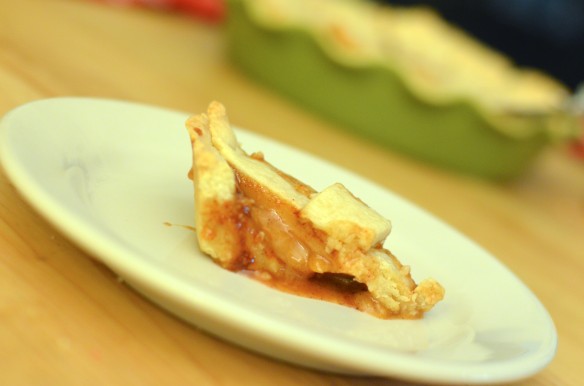 Be prepared with a tall glass of milk! Your mouth might thank you!
Chipotle Peach Pie
Crust
3 cups all-purpoes flour
1/2 teaspoon salt
2 tablespoons granulated sugar
12 tablespoons cold butter, cut into 1" pieces
1/3 cup shortening
1/2 cup ice cold water
1 egg + 1 tablespoon water, mixed
Combine the flour, salt, and sugar together in the bowl of a food processor.
Pulse the mixture while adding the butter and shortening until the butter is cut into small pea-sized pieces.
Slowly add in the water while pulsing until a dough is formed.
Divide the dough into two balls and flatten out into two discs. Wrap in plastic wrap and refrigerate for at least an hour.
Let soften about 10 minutes on the counter before rolling out. Preheat oven to 350º.
Roll out one of the discs to fit a 9" pie pan.
Place in pan, fill with beans, then bake the pie crust for 15 minutes. Allow to cool for about 15 minutes before handling.
While the crust is baking, make the filling (see below) and roll out the other disc out and cut into 7-8 strips. Place in fridge so they stay cool.
Once filling has been poured into crust, cover with crust strips, half vertically and half horizontally, pressing the edges of the strips and the edges of the pie together gently.
Brush pie with an egg wash then bake for approximately 45 minutes.
Allow to cool completely (~6 hours was good for us) before slicing and serving.
Store in the fridge. Tastes greats great the second day served cold as well!
Filling
4 large yellow peaches, ripe
3/4 cup brown sugar, packed
1 teaspoon chipotle powder**
2 teaspoons cinnamon
1/2 lemon, juiced
2 tablespoons cornstach
Peel the peaches by first blanching them in boiling water then slice into 1/2" slices.
In a large bowl, combine the peach slices, sugar, chipotle powder, cinnamon, lemon juice, and cornstarch.
Pour into the pie crust.
**use less chipotle powder if you are worried about overdoing it on the heat!