Peanut Butter Nutella Swirl Cookies
I was originally going to make mini peanut butter cookies with a Nutella filling (once again, to clean out half-used pantry ingredients), but changed my mind immediately when I stumbled across a picture of some awesome looking peanut butter cookies with a Nutella swirl. Sold.
Dustin walked into the apartment with dogs after work, and instantly Bonnie ran into the kitchen because she could smell the peanut butter permeating the air. Our dogs love peanut butter, and it's a regular treat for them since we hide Bonnie's allergy medicine it. Every time I open that jar, within a few seconds, I am swarmed by two salivating pups! Bonnie may have even climbed in Dustin's lap and tried to take a bite of his cookie as he was eating it. Seriously that dog thinks anything with peanut butter belongs to her— she has no boundaries or manners with us. Alas, Bonnie did not get to sample any of these cookies, but she did her get her own spoonful of peanut butter later in the evening, not to be cruel as to tempt to her with all of those delicious peanut buttery smells!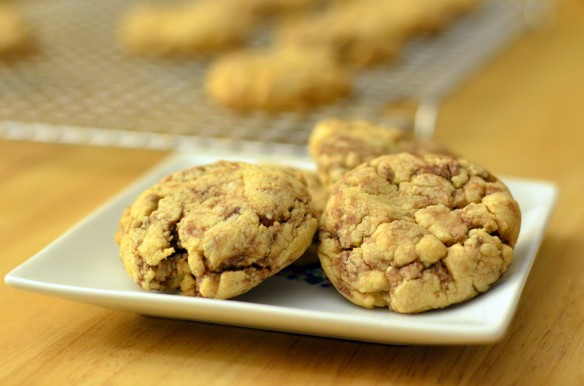 These cookies have the perfect amount of peanut butter flavor, but still allow the Nutella to shine through. The cookies are thick and soft, but not at all cakey (in my opinion, the quintessential cookie) and pair perfectly with a glass of cold milk. A little bit of coarse sea salt would pair well sprinkled on top.
Also I should technically note that these cookies have no Nutella in them, but rather the random organic chocolate hazelnut spread that Whole Foods sells instead of Nutella. Stick with the stuff you can get at the regular grocery store though, because honestly, it tastes better and is a heck of a lot cheaper.
Peanut Butter Nutella Swirl Cookies
yields ~1 1/2 dozen large cookies
2/3 cup creamy peanut butter
1/2 cup unsalted butter, room temperature
1/4 cup granulated sugar
3/4 cup light brown sugar, packed
1 egg
1 teaspoon vanilla extract
1 1/2 cups all-purpose flour
1 teaspoon baking soda
1 teaspoon salt
~1/2 cup Nutella, warmed for about 45 seconds in a microwave-safe bowl
coarse sea salt, (optional)
In a large bowl, cream together the peanut butter, butter, and sugars.
Add in the egg and vanilla extract and mix until smooth.
In a medium-sized bowl, mix together the flour, baking soda, and salt.
Slowly add the dry mixture to the wet mixture and mix until just combined.
Drizzle the warm Nutella on top of the dough and swirl it in to the dough with a butter knife.
Cover and refrigerate the dough for about an hour.
Preheat the oven to 350°. Line two baking sheets with silicone baking mats or parchment paper.
Use a medium-sized cookie scoop to scoop out large balls of dough.
Place on baking sheet and flatten slightly. Sprinkle with coarse sea salt if desired.
Bake for 10-12 minutes until edges are set but the middles are still slightly soft.
Cool on the baking sheet for 5 minutes before transferring to a wire cooling rack.