Seared Chicken + Red Wine Cherry Sauce + Thyme
Now that it is cherry season, it would be a good time to try this seared chicken covered in red wine cherry sauce. Some friends cooked us dinner once and combined cherries with thyme, a flavor combination I wouldn't have thought of on my own, but it really stuck with me. We decided to experiment with cherries and thyme on our own, poured over simply seared chicken. Our sauce ended up a little on the thin side, so in the recipe I include a cornstarch slurry to thicken things up a bit more than just allowing the sauce to cook down and thicken on its own.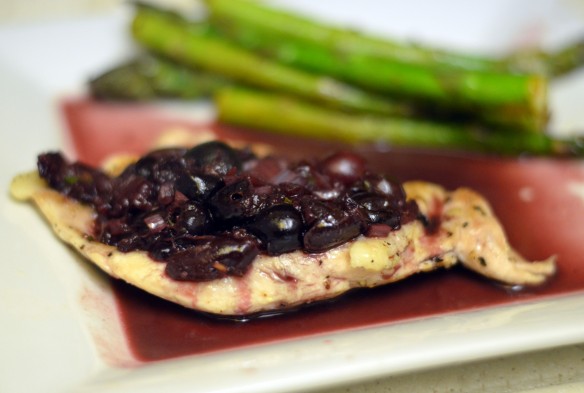 Seared Chicken + Red Wine Cherry Sauce + Thyme
serves ~3
1 lb chicken thighs, pounded thin
salt
pepper
olive oil
1 shallot, chopped
3 cloves garlic, chopped
1 cup red wine
1/2 cup chicken broth
1 1/2 tablespoons cornstarch + 1 1/2 tablespoons cold water
1 tablespoon balsamic vinegar
1 cup sweet cherries, pitted and chopped
fresh thyme, chopped
Season chicken with salt and pepper. Cook over medium heat in a cast iron skillet.
While chicken is cooking, heat olive oil in a large saucepan. Add in chopped shallots and garlic and cook until fragrant.
Add in the wine, chicken broth, balsamic vinegar, and cherries. Bring to a boil.
In a small bowl, whisk together the cornstarch and water. Add the cornstarch slurry to the boiling liquid.
Reduce to a simmer and cook until sauce has reduced.
Pour sauce over chicken and top with thyme or rosemary.