Chicken Burgers with Brie + Balsamic Strawberries + Bacon + Basil
There are a lot of B's in that title, but everything is so important to the flavors of the dish that I just couldn't bear to leave one out! I've seriously been in a creative run lately when it comes to new dinner idea. Browsing foodgawker, I stumbled upon an impressive looking chicken burger that I instantly wanted to make. I was a little worried Dustin wouldn't be as enthusiastic about it as I was, but he surprised me once again, and was all down for making this unique burger with melted brie, strawberries marinated in balsamic vinegar, basil, and crispy bacon. Some people may think this combination of flavors is a little out there, but it just seemed totally right in my head.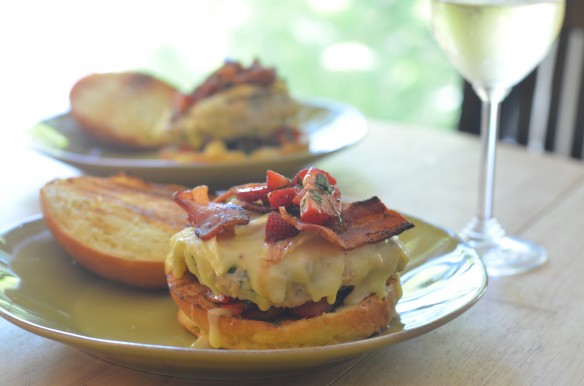 A lot of times chicken burgers can end up really dry, but these were perfectly juicy and everything on top just went together so well. We enjoyed on a lazy weekend afternoon with large glasses of vinho verde.
Also, I think the pictures of these burgers look pretty decadent.