Creamy Tomato Gorgonzola Soup (with Greek Yogurt)
My coworkers and I went out for lunch at a random restaurant we stumbled upon in downtown El Segundo. Second City Bistro offered a grilled cheese and tomato soup lunch special that I ordered. But they had a wonderful twist on their tomato soup— gorgonzola. We recreated the grilled cheese and gorgonzola tomato soup for dinner one night. I made an excellent multi-cheese panini, and whipped up our own version of tomato gorgonzola soup using greek yogurt. The yogurt helps make a delicious creamy texture, and it's yogurt, so— healthy!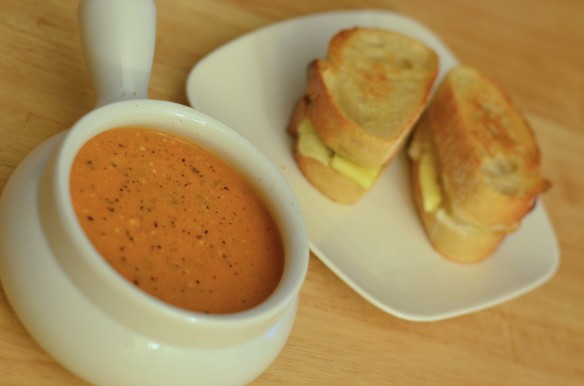 We followed this recipe from Fannetastic Food, but added gorgonzola near the end to bring it to utter perfection. If it's in season (like it was for us), swap in heirloom tomatoes. I really don't think you can go wrong by serving grilled cheese with cheesy tomato soup.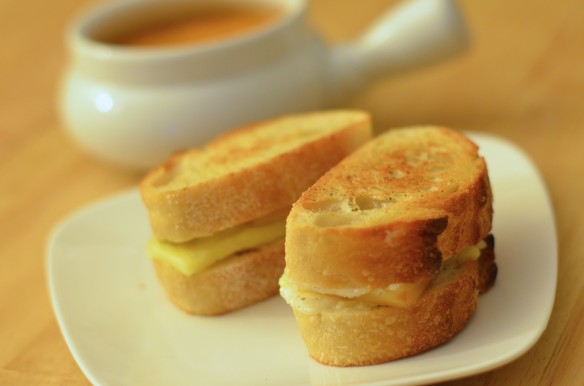 Creamy Tomato Gorgonzola Soup
1 clove garlic
1 tbsp olive oil
2 heirloom tomatoes, chopped
2 cups veggie broth
1/2 can tomato paste
fresh cracked black pepper
salt
1/2 cup plain nonfat Greek yogurt
1 cup crumbled gorgonzola
In a medium pot over medium heat, add olive oil, garlic, and tomatoes and sauté for a few minutes.
Add veggie broth, tomato paste, black pepper, and salt.
Cover, reduce to medium-low heat and simmer for 15 minutes.
Using an immersion blender, puree the soup.
Add greek yogurt and gorgonzola, stirring until melted.