Summer Vegetable Fried Rice
I recently read an article about things you will experience within the first year of moving to Southern California. One thing I  found to be true was the statement that you will feel guilty when you purchase produce from some place other than the farmer's market. The vegetables used in here are from the grocery store, and I indeed felt a lot of guilt. But at least we are attempting to incorporate more vegetables into our diet after several months of vacationing from healthy eating. I'm not sure if fried rice is the definition of healthy, but by making it at home, we were able to control how much oil went into the dish.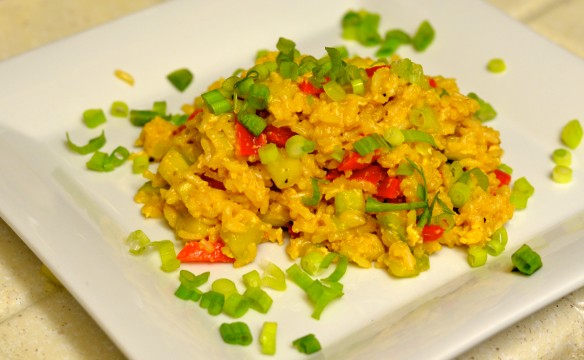 Most Asian dishes seemed out of reach, but lately we've been more willing to experiment with this sort of cuisine and are really enjoying the results. This meal does require minimal planning (i.e. cooking the rice the day before in order to ensure the proper rice texture), but that just makes the actual time to cook the meal the day you are eating it that much faster!
Summer Vegetable Fried Rice
2 cups rice, cooked (prepare the day before or use leftovers)
1 tablespoon vegetable oil
3 cloves garlic, crushed
1/2" piece fresh ginger, grated
1 zucchini, chopped
1 squash, chopped
1 red bell pepper, chopped
2 eggs
soy sauce, to taste
sesame oil, to taste
green onions, chopped, for garnish
Heat the vegetable oil in a large skillet over medium heat.
Add in the garlic, ginger, zucchini, squash, and bell pepper, cooking until the veggies are soft.
Add in the eggs and cook until eggs are scrambled.
Add in the rice and stir until heated.
Season with soy sauce and sesame oil to taste.
Top with green onions.