Beer Orzo 'n' Cheese
Dustin made a delicious Greek orzo dish with cherry tomatoes, feta, Kalamata olives, and a drizzle of olive oil. Unfortunately, he forgot to photograph it until he was already done eating and I was about 50% done. It's ok though because it really wasn't much of a recipe beyond what is previously described. However that meal was very inspirational, as we've become a little bit obsessed with incorporating more orzo into our diet.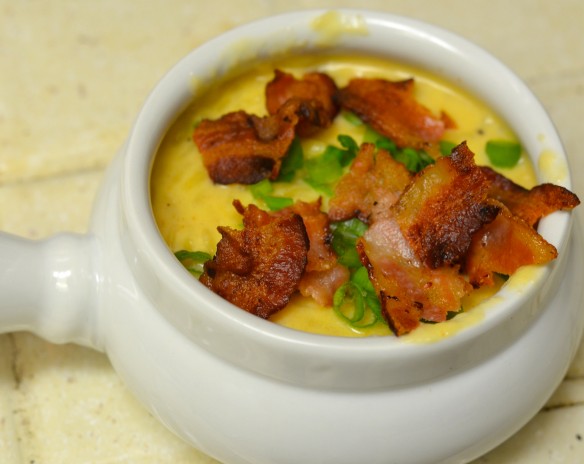 Since orzo is just a rice-shaped pasta, we decided to make a mac 'n' cheese style dish (before our August diet began, of course) with orzo instead of macaroni pasta, covered in a cheesy beer sauce. Next time, I'd want to incorporate even more different kinds of cheese to make the cheesy flavor even deeper and richer!
And today we are shipping up to Boston! So excited to visit the city for the first time, seeing the sights and eating good food with good friends!
Beer Orzo 'n' Cheese
serves 2-3
4 slices bacon
8 ounces orzo pasta
2 tablespoons unsalted butter
2 tablespoons all-purpose flour
2 cloves garlic, minced
1 tablespoon smoked paprika
1 1/2 cups milk (we used 1%)
3/4 cup amber ale
1/4 cup heavy cream
2 cups fontina cheese, shredded
2 cups cheddar, Colby, Monterrey jack, or another semi-hard cow's milk cheese, shredded (we used Beecher's Flagship)
salt, to taste
pepper, to taste
chives, for topping
In a skillet, cook the bacon over medium heat until fully cooked and crisp. Set aside and crumble once cooled.
Bring a large pot of salted water to boil and cook the orzo until al dente.
While the orzo is cooking, melt the butter in a medium-sized saucepan over medium heat. Stir in the flour to make a roux. Cook for several minutes.
Add in the garlic and paprika.
Add in the milk, beer, and cream. Bring to a boil.
Reduce heat and stir in the cheeses until melted.
Add the orzo to the cheese sauce and toss to coat.
Season with salt and pepper.
Serve in bowls topped with crumbled bacon and chives.