Crockpot Whiskey Peach BBQ Chicken
Sorry for a summery recipe when we are in the heart of September, but when peaches were in the peak of their season several weeks ago, I really wanted to make a version of Pioneer Woman's Whiskey Peach BBQ chicken using actual peaches instead of peach preserves. Obviously fresh peaches aren't in season all year round, so I imagine you could use frozen peaches as a substitute. This meal cooks in a crockpot for 8 hours, so I imagine they'd have plenty of time to cook down like the fresh peaches.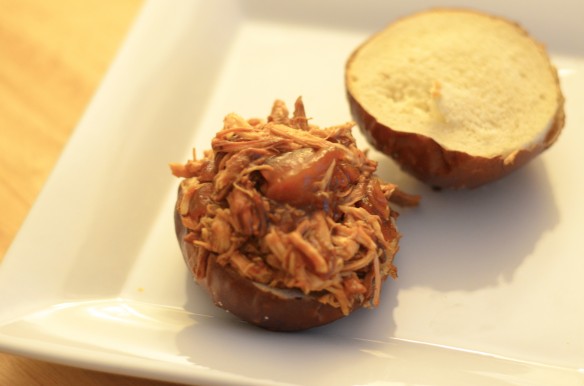 We placed the shredded chicken on pretzel buns to make adorable sliders!
Crockpot Whiskey Peach BBQ Chicken
1 lb boneless chicken thighs, cut into large pieces
3 peaches, sliced
1 8-ounce bottle smoky BBQ sauce
1 tablespoon worcestershire sauce
4 cloves garlic, minced
1 yellow onion, chopped
3/4 cup whiskey
pretzel buns, split and toasted
Sear the chicken on both sides in a cast iron skillet.
Add the chicken to the crockpot along with the the BBQ sauce, worcestershire sauce, garlic, onion, and whiskey.
Cook on low for 8 hours until the chicken and peaches are soft and tender.
Shred the chicken and peaches.
Serve on pretzel buns.