Linguine Con Le Vongole
I think this might be the first time we've ever made pasta without having cheese accompany it. After I mentioned this tidbit to Dustin, he said we should have added some parmesan to the top. But I think we'll leave well enough alone. There was plenty of bacon flavor (the only really unhealthy part of this dish) in this pasta dish to make up for the lack of cheese, and it tasted pretty darn delicious.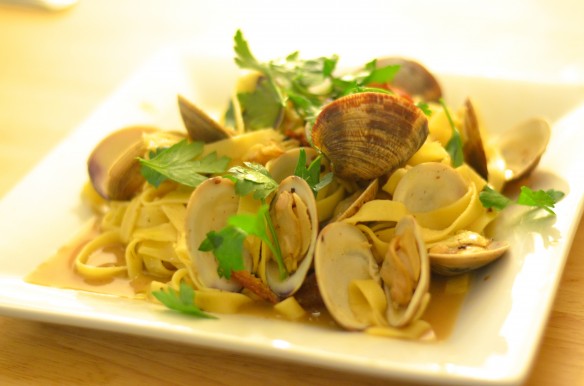 We stopped by the seafood market this week mainly to pick up King crab legs (which just happened to be on sale!), but we picked up some other fresh seafood for enjoyment this week including the awesome littleneck clams seen here. Making this dish with fresh pasta takes a little extra time, so it's a perfect task for a lazy weekend evening and most definitely worth the extra time and effort.
Linguine Con Le Vongole
serves 2 generously
1 lb littleneck clams, scrubbed and rinsed
2 tablespoons flour
3 slices bacon, chopped
3 cloves garlic, chopped
1 teaspoon chili flake
1 lemon, zested and juiced
1 cup white wine (we used Chateau St. Michelle Chardonnay)
1/2 batch homemade linguine, cooked al dente (we substituted some of the all-purpose flour for semolina flour)
1/4 cup parsley, chopped
olive oil, for drizzling
salt, to taste
pepper, to taste
Set the clams in a bowl of cold water with the flour to remove any sand that may have gotten trapped inside. Cover with a damp towel and allow to sit in the fridge for about an hour.
While the clams are soaking in the flour water, you should prepare your linguine, or skip this step if you are using store-bought pasta.
Scrub and rinse the clams. Set aside.
Bring a large pot of water to boil.
In a large deep bottomed skillet with a lid, cook the bacon over medium heat until crisp. Set aside and allow to cool.
Saute the garlic, chili flakes, and lemon zest in the bacon fat until fragrant.
Deglaze with the wine and lemon juice.
Add in the clams, cover and cook until clams open (about 5 minutes for us).
Once you have added in the clams, begin cooking the linguine. It takes about 2-3 minutes until al dente if you are using fresh (adjust cooking time and start if you are using store-bought).
Drain the pasta and add to the pan with the clams.
Toss the pasta with the wine sauce until coated.
Plate and top with parsley and a drizzle of fresh olive oil.
Season with salt and pepper.