Pad Thai Spaghetti & Meatballs
I've really wanted to try my hand at pad thai for awhile now, but I decided to put my own twist on the dish inspired by spaghetti and meatballs. For a basic pad thai that's easy and doesn't require fish sauce (which we couldn't find), just leave off the meatballs. Or just serve the meatballs on toothpicks as an appetizer for a football party. But if you are making both (which you should), you should probably start making the meatballs first because they take the longest to make. Once they are in the oven, get started on the noodles. I never imagined how easy it could be to have pad thai at home, and it was pretty darn tasty.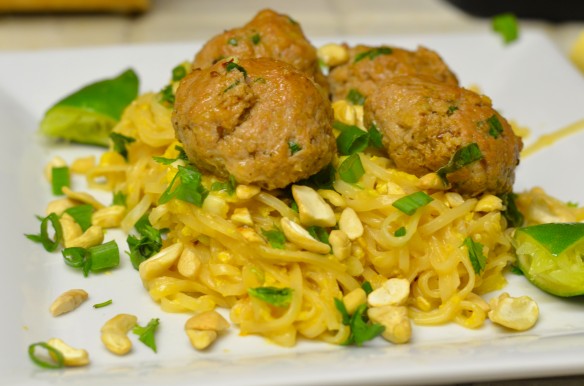 Pad Thai Spaghetti & Meatballs
serves 2-3
Pad Thai
8 ounces rice noodles
1 tablespoon brown sugar
1/4 cup soy sauce
1 tablespoons rice vinegar
1 tablespoon sesame oil
1 teaspoon hot sauce (probably should use Sriacha, but I definitely used Tapatio)
2 teaspoons vegetable oil
2 cloves garlic, crushed
1/2" piece fresh ginger, grated
1 small bunch scallions, chopped
2 large eggs
1/2 cup cilantro, chopped
1/4 cup peanuts or cashews, toasted
Soak and prepare (boil) the noodles according to the packaging. Drain and set aside.
While the  In a small bowl combine the brown sugar, soy sauce, rice vinegar, sesame oil, and hot sauce.
Heat vegetable oil in a skillet to medium heat.
Add in the scallions, garlic, and ginger and cook for several minutes.
Add in the eggs and cook until barely set.
Add in the noodles and the sauce and toss until combined.
Top with cilantro and peanuts.
Meatballs
1 lb ground turkey
1 small bunch green onion, chopped
4 cloves garlic, minced, divided
1 teaspoon sesame oil
1/2" piece fresh ginger, grated
1 egg
1/2 cup Panko breadcrumbs
1/3 cup Hoisin sauce
2 tablespoons rice vinegar
2 tablespoons soy sauce
1 teaspoon hot sauce
salt, to taste
pepper, to taste
Preheat the oven 400º.
In a large bowl, combine the turkey, green onions, half of the garlic, sesame oil, ginger, egg, and Panko.
Portion the mixture into about 12 meatballs and place onto a large baking dish.
In a small bowl, combine the Hoisin sauce, rice vinegar, soy sauce, hot sauce, the remaining garlic, salt, and pepper.
Pour the sauce over the meatballs, and bake for 25-30 minutes until the meatballs are thoroughly cooked.
Serve on top of the pad thai noodles.