Rice Noodles & Peanut Butter Sauce
Although I was a little apprehensive about making a peanut butter sauce for noodles, I couldn't be more pleased with how this dish turned out in the end. Peanut butter is something I'd usually pair with chocolate, so eating it with soy sauce, took a little bit of time to wrap my head around. The gamble paid off. We added to the dish with some simply baked chicken, but this would taste just as delicious as a vegetarian dish.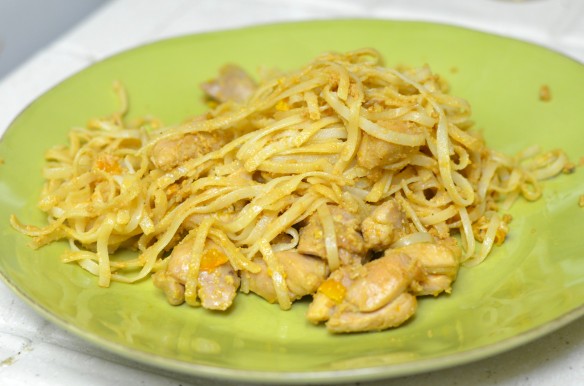 You can serve this dish hot or cold. We served it lukewarm. We were planning on serving it cold, but we were too hungry, so the instant you'd no longer categorize the temperature of the dish as warm, we dug in. However, the fact that you can make this early in the day and throw it in the fridge (heck you could even make this the night before), makes this a potentially really easy dinner to have on a hectic weekday. If only we had planned a little better... Oh well, the cold leftovers were great!
Rice Noodles and Peanut Butter Sauce
8 ounces rice noodles
1/3 cup creamy peanut butter
2 tablespoons soy sauce
2 tablespoons rice vinegar
1 tablespoon sesame oil
2 teaspoons vegetable oil
2 cloves garlic, minced
1/2" piece ginger, grated
1 teaspoon red pepper flakes
1 bell pepper, sliced
1 small bunch green onions, chopped and divided
Bring a pot of water to boil and cook the rice noodles according to package instructions.
In a medium bowl bowl combine the peanut butter, soy sauce, rice vinegar, and sesame oil.
Heat the vegetable oil in a large skillet, then add in the garlic, ginger, and red pepper flakes and toast for a few minutes. Add in the bell pepper and about half of the green onions then sauté until soft.
Drain the noodles and add to the bowl with peanut butter sauce. Toss to coat.
Once the pepper are cooked, add the coated noodles to the skillet to reheat.
Either serve warm or allow to come to room temperature then cover and cool in the fridge for about an hour.
Garnish with remaining green onions.