Zucchini Crusted Buffalo Chicken Fingers with Hatch Chile Ranch Dressing
Perfect for football season, these baked zucchini crusted buffalo chicken fingers are a good way to get a little extra veggies in without realizing you are actually eating vegetables. You can't taste the zucchini beneath a healthy layer of Frank's hot sauce. Dustin commented that there couldn't be very much zucchini in there, but there are actually two whole zucchini. Fooled him!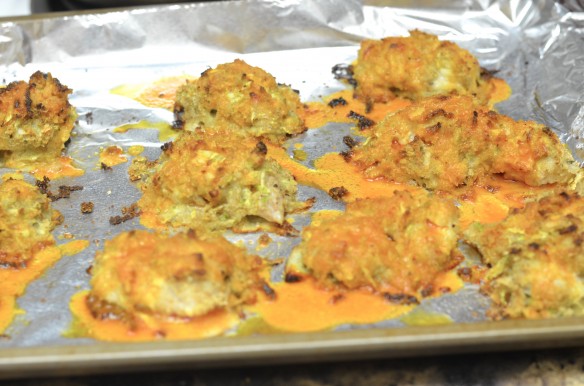 Obviously buffalo chicken fingers should be served with blue cheese dressing (and we had that on the side), but I also made a Hatch chile ranch to dunk the tenders in. Time to bust out the frozen Hatch chiles!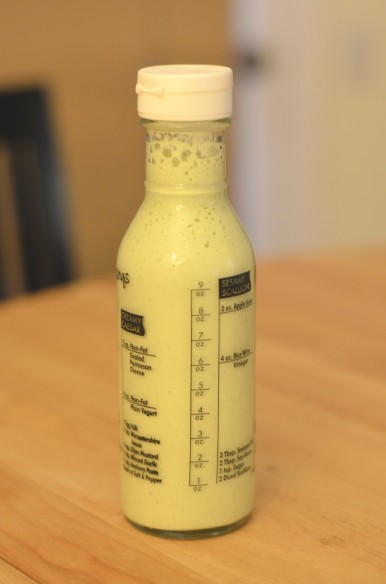 Zucchini Crusted Buffalo Chicken Fingers with Hatch Chile Ranch Dressing
Chicken Fingers
1 lb boneless skinless chicken breasts
1 cup buttermilk
2 zucchini, freshly grated and squeezed dried
2 cups Panko breadcrumbs
1/4 cup all-purpose flour
1/2 cup parmesan cheese, grated
1 teaspoon salt
1 teaspoon pepper
1 1/2 cups Frank's hot sauce
2 tablespoons unsalted butter, melted
Fill a large bowl with buttermilk and allow the chicken to soak in the refrigerator, covered for at least an hour.
Preheat oven to 450°. Line a baking sheet with aluminum foil and spray with cooking spray.
Combine the zucchini, Panko, flour, parmesan, salt, and pepper in a medium sized bowl.
Dredge the soaked pieces of chicken in the zucchini mixture.
Bake for 15 minutes or until chicken is no longer pink.
While the chicken is baking, mix the hot sauce and the butter in a small bowl.
Remove from the oven, turn the oven down to 350° and coat with hot sauce mixture.
Bake for another 5 minutes.
Slightly adapted from Betty Crocker
Hatch Chile Ranch
3/4 cup full fat Greek yogurt
1/2 cup mayonnaise
1/2 cup buttermilk
1 lime, juiced
1 small bunch cilantro, chopped
2 cloves garlic
3 Hatch chiles, roasted and seeded
1/2 teaspoon salt
1/2 teaspoon pepper
1 teaspoon dried dill
1 teaspoon dried parsely
Combine all ingredients together in a blender until smooth.
Allow to sit in the refrigerator to let flavors meld for at least an hour.