Cinnamon Roll Cookies
I've sort of dropped the ball again on posting recipes. After we moved we didn't do much cooking from scratch. We were going on a vacation to Boston (another reason for the lack of posting) to visit our friends who were the biggest consumers of my desserts back when we all lived in Washington. I knew I couldn't show up empty handed without ruining my reputation (and I wanted to be a gracious guest), so I busted out the baking sheets and made these cinnamon roll cookies.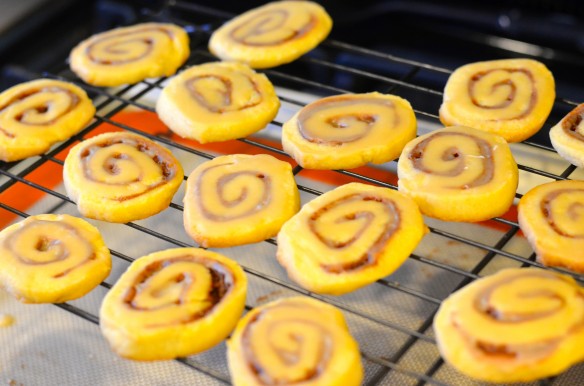 This recipe was chosen because I had all of the ingredients on hand when we hadn't legitimately been grocery shopping in weeks other than to grab a couple of things here and there. But just because these were made out of necessity doesn't mean that they aren't delicious. They were a big hit with our friends (and us), and they really do taste like eating mini cinnamon rolls. We might have had a few for breakfast!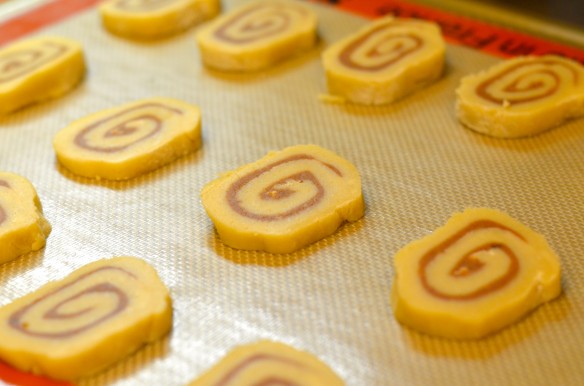 Cinnamon Roll Cookies
~3 1/2 dozen cookies
Cookie Dough
1 cup unsalted butter, softened
1/3 cup granulated sugar
3/4 cup powdered sugar
1/2 teaspoon salt
1 teaspoon vanilla extract
1 egg
2 1/4 cups all-purpose flour
Cream together the butter, granulated sugar, powdered sugar, and salt in the bowl of a stand mixer, scraping down the sides.
Add in the vanilla and the egg and beat until smooth.
Slowly add the flour, mixing until just incorporated.
Chill the dough in the fridge for about half an hour before handling.
On a floured surface, roll out the dough to a square about 12"x12".
Spread with cinnamon filling (see below).
Roll the dough into a tight log.
Wrap in plastic and freeze until firm (~30 minutes).
Preheat the oven to 375°. Line baking sheets with parchment paper or silicone baking mats.
Slice into approximately 1/4" cookies.
Place on a baking sheets and bake for 12-14 minutes.
Allow to cool on baking sheet for 5 minutes before transferring to a cooling rack.
Once completely cooled, brush with icing (see below) and allow to harden.
Cinnamon Filling
5 tablespoons unsalted butter, softened
1/4 cup light brown sugar, packed
1 1/2 teaspoons light corn syrup
1 tablespoon cinnamon
2 tablespoon all-purpose flour
1/2 teaspoon salt
1/2 teaspoon vanilla extract
Combine all ingredients together in a medium sized bowl and whisk until smooth.
Icing
1/2 cup powdered sugar
2 tablespoons light corn syrup
1 teaspoon vanilla extract
1 teaspoon water
Combine all ingredients together in a small bowl and whisk until smooth.
Recipe slightly adapted from The Culinary Institute of America