Pistachio Champagne Risotto with Crispy Shallots
When Erin comes home from a vacation, I always cook a romantic meal. And the only thing that comes to mind when I think romantic food is Italian. It's been awhile since I've made a risotto, so I set out to come up with an interesting risotto recipe for Erin's return. This time we dined on delicious creamy champagne risotto with pistachios, parsley, and crispy shallots.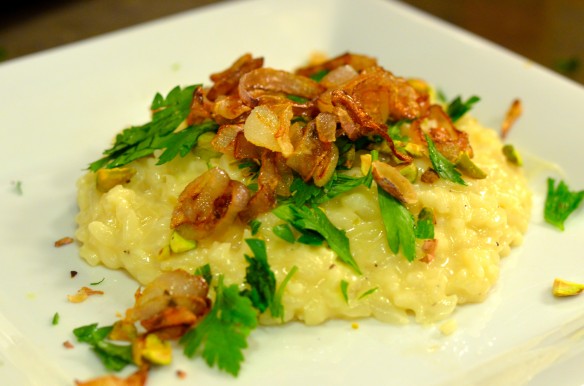 Oh wow, were those shallots a winner. They're also suprisingly simple to make. Slice 4 or 5 shallots into rings, bring a pot with about 1/4 inch of oil to heat, and then fry shallots until brown and crunchy. We'll definitley have to start adding these guys to other dishes.
It was so wonderful to have my lady back, and I think she enjoyed her special meal!