Creamy Amaretto Pumpkin Soup with Fried Sage
This is a pumpkin soup that even Dustin can get behind. When I told him pumpkin soup was on the menu, he was less than pleased. But once he tasted the mildly pumpkin soup, I think he quite enjoyed his meal. The amaretto in the soup is really quite subtle, but adds a little extra depth to the soup. I actually intended to deglaze the pan in which I cooked the onions with the amaretto, but I was totally off and added the vegetable broth before the amaretto. Regardless of my mind wandering goof, the soup was still great (though I've written the recipe instructions as intended).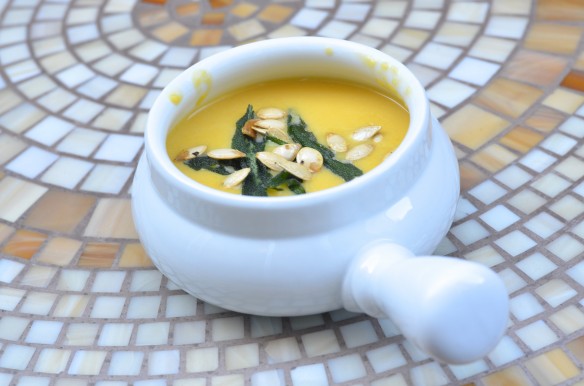 When you roast the pumpkin, make sure to save the seeds and toast them because they make a great crunchy topping. But as good as the pumpkin seeds are on top, do you want to know what really sends this dish over the edge? The fried sage leaves on top. I could seriously eat those like potato chips!
Creamy Amaretto Pumpkin Soup with Fried Sage
2 2-lb sugar pumpkin
2 tablespoons olive oil
1 yellow onion, chopped
4 cloves garlic, chopped
1/4 cup amaretto liqueur
3 cups vegetable broth
1 cup water
1/2 cup half-and-half
salt, to taste
pepper, to taste
pumpkin seeds, toasted, for serving on top
fried sage leaves, for topping
Roast the sugar pumpkin until soft, peel then cut into 1" cubes.
In a large pot, heat the olive oil over medium heat. Cook the onions about 5 minutes until soft. Add in the garlic and cook for another minute or two.
Deglaze the pan with the amaretto and cook for about a minute.
Add in the pumpkin chunks, vegetable broth, and water. Bring to high heat and cook for 10 minutes.
Remove the soup from the heat. Using an immersion blender, blend the soup until smooth.
Stir in the cream.
Serve topped with toasted pumpkin seeds and fried sage.