Fancy BLTs
This post should really be called PATJs, which is short for Pancetta, Argulua, and Tomato Jam sandwiches, but I don't think you'd be able to understand what I was talking about if that was the title. But all of the ingredients in this sandwich are fancied up version of the classic BLT sandwich served on delicious seeded bread.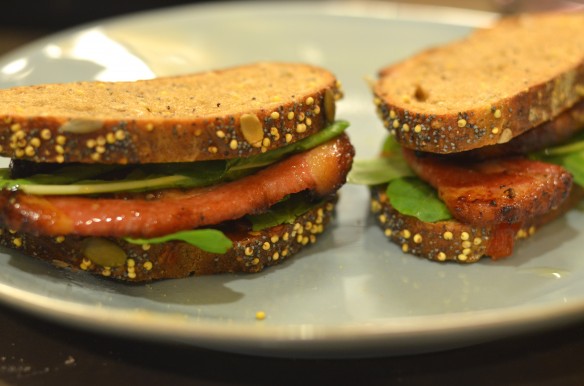 The tomato jam and the candied pancetta are definitely on the sweeter side (with a little heat), but the bitterness in the arugula really balances things out nicely. While this may seem like a summer dish, and yes maybe it is, but there is a hint of fall flavor that comes out through the cinnamon and cloves in the tomato jam.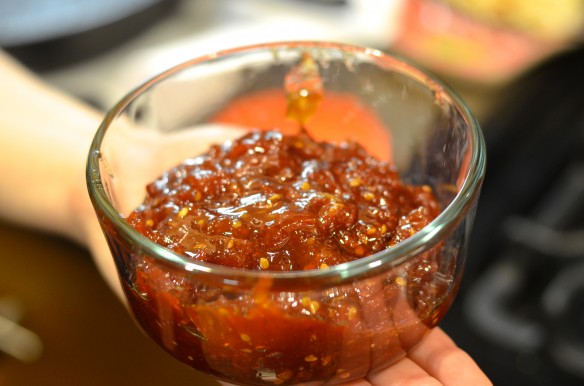 Fancy BLTs
yields 2 sandwiches with leftover jam
Sandwich
1/2 lb pancetta sliced about 1/4" thick
2 tablespoons honey
1/4 teaspoon cayenne pepper
1/3 cup tomato jam (recipe below)
1/2 cup arugula
4 slices bread
Preheat the oven to 375º.
Spread the honey on the slices of pancetta and sprinkle with cayenne pepper.
Place on baking rack on top of a baking sheet, and bake the pancetta for 15-20 minutes depending on the thickness.
Spread tomato jam on 2 slices of bread, top with arugula, and pancetta, then place the other slices of bread on top.
Tomato Jam
2 lbs tomatos, chopped and cored
1 1/4 cup granulated sugar
2 limes, juiced
1/2 teaspoon ginger, fresh grated
1/4 teaspoon red pepper flakes
1/2 teaspoon ground cinnamon
1/4 teaspoon ground cloves
Combine all of the ingredients together in a large stainless steel pot.
Stirring frequently, cook for approximately an hour until desired texture is reached.
Leftovers can be jarred or just stored in the refrigerator as a fancy ketchup replacement.
jam recipe slightly adapted from Food in Jars