Pumpkin Sauce Enchiladas
You'd never know there was pumpkin in these enchiladas except for the slightly orange color of the sauce. The pumpkin puree replaces the traditional tomato base and just tastes of Tex-Mex goodness when mixed with jalapeños, garlic, and all of the works. The sauce is made in the blender and then you just pour it over the tortilla and bake. Super easy! Next time I plan on making a pumpkin filling instead, but I was initially worried about too much pumpkin flavor.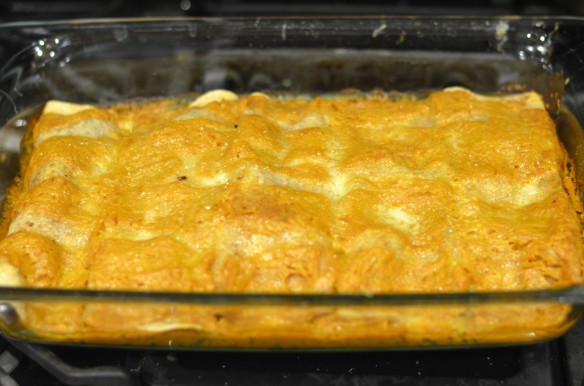 Pumpkin Sauce Enchiladas
yields 5 large enchiladas
1 cup vegetable broth
1 15-ounce can pumpkin puree
3 cloves garlic
1 jalapeño, seeded
2 teaspoons chipotle powder
1 teaspoon cumin
1 teaspoon onion powder
1 teaspoon red pepper flakes
5 whole wheat flour tortillas
3/4 lb cooked chicken, shredded
3/4 cup cheddar or Monterrey Jack cheese, shredded
scallions, for topping
sour cream, for topping
Preheat the oven to 375º.
Combine the vegetable broth, pumpkin puree, garlic, jalapeño, chipotle powder, cumin, onion powder, and red pepper flakes in a blender until smooth. Do not taste now, as it will be very sharp, but add in more vegetable broth if you'd like a thinner sauce.
Place a bit of the chicken inside the tortilla, roll it up and place in a large baking dish. Repeat with remaining tortillas (if need to soften the tortilla, you can dip them in the sauce, but I didn't need to).
Sprinkle with cheese. Bake for about 20 minutes.
Serve with scallions and sour cream.