White Bean + Parmesan Stew
From now on I'm putting parmesan rinds in everything. We made this delicious white bean stew with three different kinds of greens (yes, three!), adapted from Bon Apetit, and there was not a drop of actual cheese in the stew, but there was the most wonderful cheesy flavor in the broth. It's like 80 degrees here, so it isn't exactly soup weather; however, my brain is in fall mode, and half of the meals we are making are warm, comforting soups.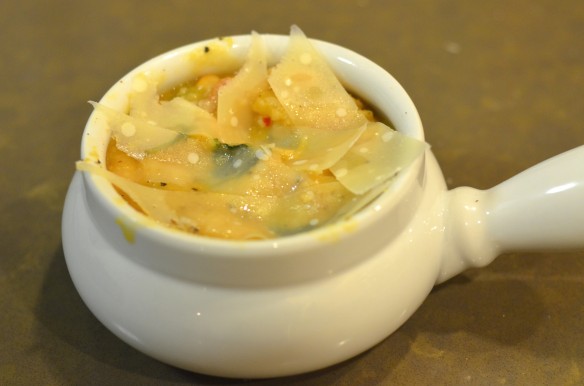 White Bean + Parmesan Stew
generously serves 3
2 tablespoons olive oil
1 teaspoon red chili pepper flakes
1 teaspoon smoked paprika
4 cloves garlic, crushed
3 shallots, chopped
4 celery stalks, chopped
4 cups chicken stock
2 cups water
1 parmesan rind
1 lb dried white beans, soaked overnight
1 bunch kale leaves, roughly chopped
2 cups spinach
2 cups arugula
salt
pepper
shaved parmesan, for topping
bread, for dunking
Heat the oil in a large pot. Add in the chili pepper flakes, paprika, garlic, shallots, and celery, and cook until soft.
Add in the chicken stock, water, parmesan rind, and soaked beans. Bring to a boil then reduce to simmer and cover, cooking for about 2.5 hours until beans are softened.
Add in all of the greens and cook for 5-6 minutes until wilted. Season with salt and pepper.
Serve with shaved parmesan on top and a side of warm bread.
adapted from Bon Apetit