Browned Butter Roasted Brussels Sprouts
We made these delicious brussels sprouts for Thanksgiving dinner, but they were so simple that we'll probably make them again for Christmas or even just a regular dinner. Who would have thought that we'd be excited to eat brussels sprouts, but they seem to be a trendy menu item at a lot of restaurants (the brussels sprouts with pancetta vinaigrette at Animal were to die for). This particular version was inspired by a local, upscale sourdough pizza place called Wildcraft. We had a less than satisfactory experience trying to get their pizza delivered to us awhile back, but this restaurant totally made it up to us in person, bringing us all sorts of free appetizers and then comping whatever we chose to order. We never would have picked the brussels sprouts on our own, but they ended up being our favorite part of the meal. Now we've recreated them at home!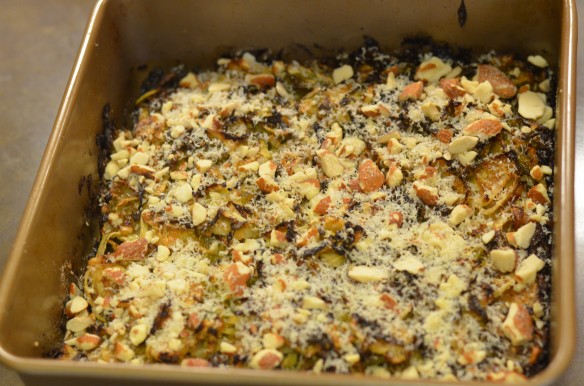 There is a lot of (browned) butter in this recipe, so they don't really qualify as a healthy vegetable anymore. There is a lot of nutty flavor in this dish that comes from a combination of the roasting process, the browned butter, the parmesan cheese, and of course, the crushed nuts on top. What really set the dish off for us was the addition of a generous dose of freshly cracked black pepper.
Browned Butter Roasted Brussels Sprouts
1 1/2 cups unsalted butter
1 pound of brussels sprouts
salt, to taste
pepper, to taste
1/2 cup parmesan cheese
1/4 cup almonds, crushed
Preheat the oven to 425º.
In a small saucepan, brown the butter until nutty and fragrant.
Shred the brussels sprouts in a food processor.
Toss the shredded brussels sprouts in brown butter.
Spread brussels sprouts in an even layer on a 9"x13" pan (we made the brussels sprouts in two batches using an 8"x8" pan).
Roast for 20 minutes.
Add the parmesan and almonds to the top and roast for another 10 minutes until the edges are crispy and browned.