Funfetti Cookie Cake
I made this cake to celebrate my own birthday the night before. I spent my actual birthday giving my 251 research talk in front of my area's department, which is sort of like our version of a master's thesis defense. And it was the last day of the quarter for the year. Needless to say I was a little preoccupied and wanted an easy, homemade dessert as a treat for afterwards.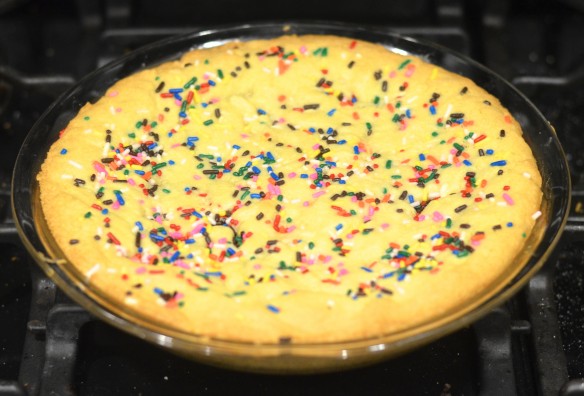 I've always heard butter extract is the key to "cake batter" flavor without using cake mix, so I when I saw a bottle at Ralph's, I snapped it up for this purpose. You could totally decorate it with frosting, but like I said I was busy. Even without any frosting, it was super delicious and the perfect way to end my birthday (and a long quarter)!
Funfetti Cookie Cake
yields 1 9" cookie cake
1/2 cup unsalted butter, softened
2/3 cup granulated sugar
1 large egg + 1 yolk
1 teaspoon vanilla extract
1 teaspoon butter extract
1 2/3 cup all-purpose flour
1 teaspoon baking powder
1/2 teaspoon baking soda
1/2 teaspoon salt
2 teaspoons cornstarch
1 cup white chocolate chips
1/2 cup rainbow sprinkles
Preheat the oven to 350º. Grease a 9" pie pan with butter and dust with flour.
In a large bowl, cream together the butter and sugar until light and fluffy.
Add in the egg and and yolk, followed by the vanilla and butter extract, mixing after each addition.
In a medium bowl, whisk together the flour, baking powder, salt, and cornstarch.
Slowly add the dry mixture to the wet mixture, mixing until just combined.
Stir in the white chocolate chips.
Pour the mixture into the pie pan.
Top with sprinkles.
Bake for about 25 minutes until edges are browned, but the center is soft.
Allow to cool completely before slicing.