Gingerbread Stout Loaf
This loaf cake was inspired by one we sampled at The Sycamore Kitchen awhile back, and I knew I'd have to recreate it come the holiday season. The stout (instead of buttermilk) really intensified the deep, dark molasses flavor. I was a little worried swapping out the buttermilk in favor of stout that the texture would be off. But it was absolutely spot-on, and definitely some of the best gingerbread I've ever had. This recipe is a keeper for sure!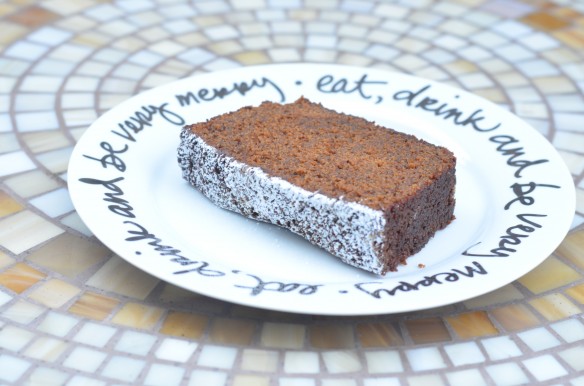 Gingerbread Stout Loaf Cake
yields 1 9"x5" loaf
1 1/2 cups flour
1 tablespoon + 1 teaspoon ginger
2 teaspoons cinnamon
1/2 teaspoon cloves
1/2 teaspoon allspice
1 teaspoon salt
1/2 teaspoon baking soda
1/2 cup stout beer (I was planning on using an oatmeal stout, but settled on Guinness instead)
2 teaspoons vanilla
1 cup unsalted butter, softened
1/2 cup dark molasses
2 large eggs, at room temperature
powdered sugar, for dusting
Preheat the oven to 350°. Grease a 9"x5" baking dish then dust with flour and set aside.
In a small bowl, whisk together the flour, ginger, cinnamon, cloves, allspice, salt, and baking soda.
In a measuring cup, combine the stout beer and the vanilla.
In a large bowl, beat the butter and molasses until smooth.
Add in the eggs, one at a time, beating after each addition.
Slowly add a bit of the dry mixture to the butter/egg/molasses mixture, alternating with the stout mixture, until completely incorporated.
Pour the batter into the greased and floured pan.
Bake for ~45 minutes, or until a toothpick inserted into the center comes out cleanly.
Dust with powdered sugar.
Allow to cool completely before removing from pan.
Recipe adapted from Chow