Pear, Walnut & Blue Cheese Puff Pastry Pizza
Puff pastry pizzas make a fabulous dinner or party appetizer, and it's very low maintenance to make. The puff pastry makes such a flaky and buttery crust. Although you could do a variety of toppings (I think a caprese version with cherry tomatoes and basil would be perfect in the summer), this particular variety is perfect for the holiday season, topped with pears, walnuts, and blue cheese. Dustin worried this wouldn't be savory enough for dinner, but he quickly ate his words (and lots of the puff pastry pizza).
We used one sheet of puff pastry and cut it in half to make individual flatbreads, but you could easily cut into different sizes and even double the recipe since puff pastry usually comes two pieces to a box.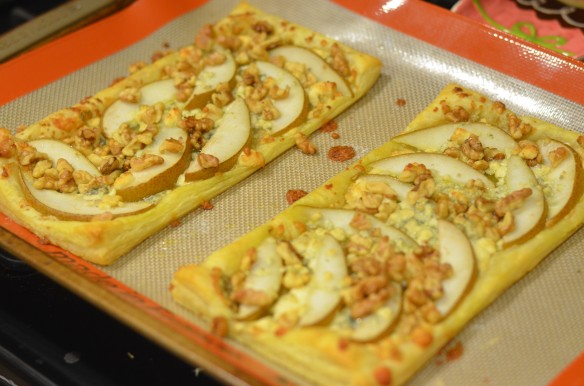 Pear, Walnut & Blue Cheese Puff Pastry Pizza
serves 2 for dinner
1 sheet of puff pastry, defrosted in the refrigerator
2 teaspoons olive oil
1 pear, thinly sliced
1/2 cup walnut pieces
4 ounces blue cheese crumbled
sea salt, for topping
Preheat oven to 425º. Line a baking sheet with parchment paper or baking mat.
Unfold the defrosted sheet of puff pastry and cut in half.
Place the puff pastry on the baking mat.
Evenly spread olive oil on the top of the puff pastry.
Place pear slices, walnut pieces, and blue cheese on top, and sprinkle with sea salt.
Bake for about 15 minutes. If the edges are too puffed up for your liking, allow the pizza to sit for several minutes and they will deflate.