Spinach and Artichoke Tortellini Soup
We've been eating crazy amounts of spinach lately. For the last few weeks, most mornings for breakfast, we've been drinking green smoothies for breakfast. Dustin was skeptical about the potential deliciousness of putting spinach in a smoothie, but has since perfected a version with bananas, honey, raspberries, mangoes, fresh orange juice, and coconut milk (another new staple in our kitchen) topped with a bit of granola. We've also been incorporating more spinach into dinners. I really wanted to make this pesto spinach artichoke tortellini soup because it incorporates artichokes and pesto, two of my favorite things (in addition to cheesy pasta...so I guess three of my favorite things), but our Whole Foods didn't have fresh basil or even pre-made pesto. What's up with that? So we had to settle for a fresh basil-less soup and added some dried herbs instead. It was still delicious (and super easy to make on a busy weeknight), but no doubt would have been made better with some legit pesto!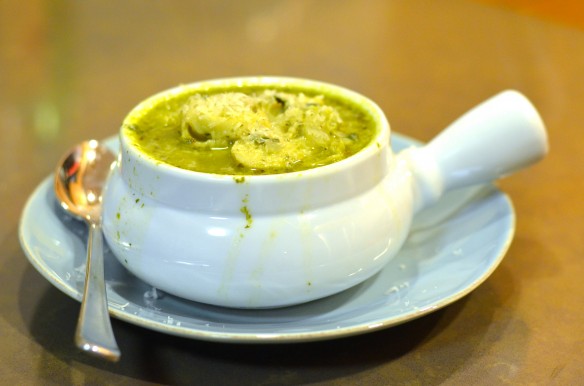 Spinach and Artichoke Tortellini Soup
serves ~4 for dinner
1 tablespoon olive oil
1 yellow onion, chopped
4 cloves garlic, chopped
4 cup vegetable broth
3 cups cheese tortellini
12-ounces artichoke hearts, frozen
2 cups spinach, roughly chopped
2 teaspoons dried oregano
2 teaspoons dried basil
salt, to taste
pepper, to taste
shaved parmesan, for topping
In a large pot, heat the olive oil over medium heat.
Add the onion and garlic and cook until soft, about 5-7 minutes.
Add the vegetable broth, tortellini, artichoke hearts, spinach, and herbs. Cook until tortellini is al dente (about 10 minutes for us).
Season with salt and pepper and top with freshly shaved parmesan!
slightly adapted from Two Peas and Their Pod (link above in-text)