Everything Bagel Cheeseball
Making a homemade cheeseball is a fun and surprisingly easy appetizer. I can definitely see making this again for parties because it's simple to prepare in advance. I liked the idea of rolling a cheeseball in all of the fun stuff you'd find on top of an everything bagel. Inside of all that good stuff is cream cheese, cheddar, horseradish, and bacon. I'm not really exactly sure why those last three ingredients are included in something with the words "everything bagel," but more cheese is always good, the horseradish adds a nice kick, and of course, bacon is bacon.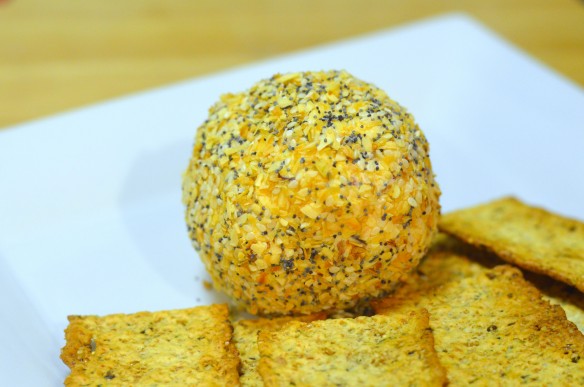 Everything Bagel Cheeseball
1 8-ounce brick cream cheese, softened
1/2 cup sour cream (we used light)
2 teaspoons horseradish
1 cup sharp cheddar cheese, shredded
2 green onions, chopped
6 slices bacon, cooked and chopped
1/4 cup dried onion
1/4 cup poppy seeds
1/4 cup sesame seeds
1/4 cup garlic flakes
2 teaspoons coarse sea salt
Bagel chips or crackers for serving
Combine the cream cheese, sour cream, horseradish, cheddar, scallions and bacon.
Form the cheese mixture into a ball then wrap in plastic wrap. Place in the fridge for at least an hour.
In a small bowl, mix together the onion, poppy seeds, sesame seeds, garlic, and salt.
Roll the cheese ball in the everything bagel seasoning mix and enjoy with bagel chips or crackers.
Recipe from the Rachael Ray Show