Mini Chocolate Covered Cacao Nib Cookies
When we visited Boston a few months back, we toured (and devoured lots of chocolate) at this wonderful chocolate factory called Taza. In addition to more traditional chocolates, they make a Mexican inspired chocolate with a really unique, kind of grainy (but definitely not in a bad way) dark chocolate. We came home with many discs of that sort of chocolate (sadly it's all gone now), but also some chocolate covered cacao nibs that I planned to add to a basic cookie recipe. The cacao nibs are about the size of mini chocolate chips, so I decided to make cute miniature cookies to go along with the nibs. They almost reminded me of eating Cookie Crisp cereal (but are way tastier).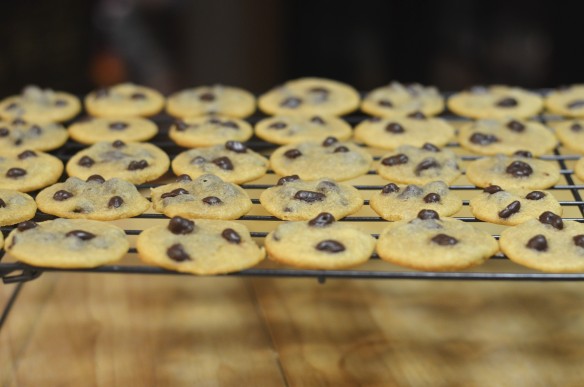 Dustin says these are the best chocolate chip cookies ever. There's really nothing super special about the dough except for the use of cornstarch to keep the cookies soft (so feel free to use your favorite cookie recipe as the base), but the nibs definitely give it a unique flavor and texture. The worst part is taking the time to roll the dough into dozens and dozens of tiny balls. But if they are the best cookies ever, then I guess it's worth it!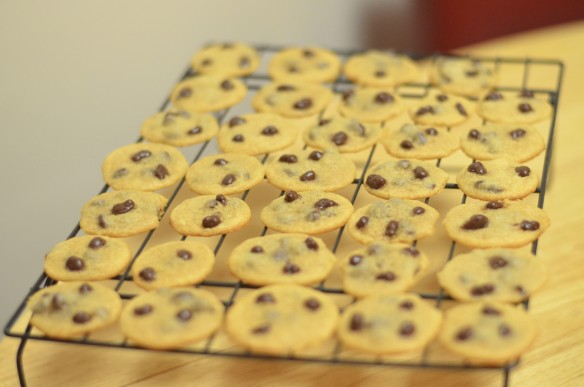 Mini Chocolate Covered Cacao Nib Cookies
yields ~8 dozen cookies
1/2 cup unsalted butter, softened
1/2 cup packed light brown sugar
1/4 cup granulated sugar
1 large egg
2 teaspoons vanilla extract
1 1/2 cups all-purpose flour
1 teaspoon cornstarch
1/2 teaspoon baking soda
1/4 teaspoon salt
2/3 cup chocolate covered cacao nibs (or mini chocolate chips), plus more for on top
Combine the butter and the sugars in a large bowl, mixing until light and fluffy (~2 minutes).
Add in the egg and the vanilla extract and mix until smooth.
In a medium bowl, sift together the flour, cornstarch, baking soda, and salt.
Slowly add the dry mixture to the wet mixture, mixing until barely combined.
Stir in the cacao nibs.
Refrigerate the dough for at least 30 minutes. While the dough is chilling, preheat the oven to 350º and line baking sheets with parchment paper or silicone baking mats.
Scoop out slightly less than a teaspoon of dough at a time and roll into a ball.
Place on mat (leaving at least 1" between each ball), flatten slightly, and place a few more additional cacao nibs on top.
Bake for for approximately 6 minutes or until cookies look just under baked.
Allow to cool on the pan for at least 5 minutes before transferring to a wire cooling rack.