Red Velvet Cookies
Happy Valentine's Day! We're having a lazy morning (with fresh squeezed blood orange juice) followed by a brewery visit and (apparently amazing) pastrami sandwiches for lunch. Tonight we are celebrating by going downtown to watch the Kings play win. Last night we celebrated by making the most delicious pizza we've ever created at home using some gourmet smoked pepperoni from a gift box my mom sent us for Christmas, olive cheese from the farmer's market (Dustin was skeptical, but it was amazing), and homemade sauce. We also had a really nice bottle of wine back from 2005. It was weird to drink a bottle of wine that was older than our relationship with each other!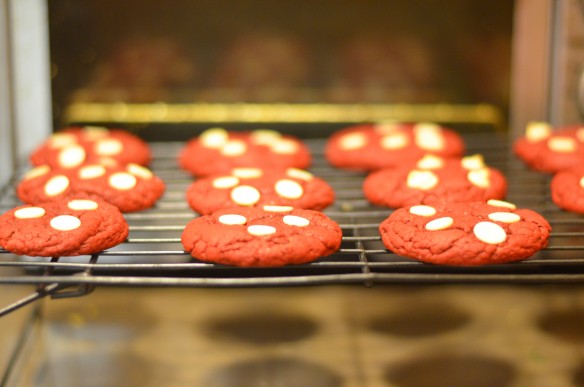 Thursday night I made these super simple red velvet cookies to take to work and school to start the Valentine's Day celebration a little early. These cookies require minimal effort, which is perfect given how busy I've been lately. These were a big hit all around!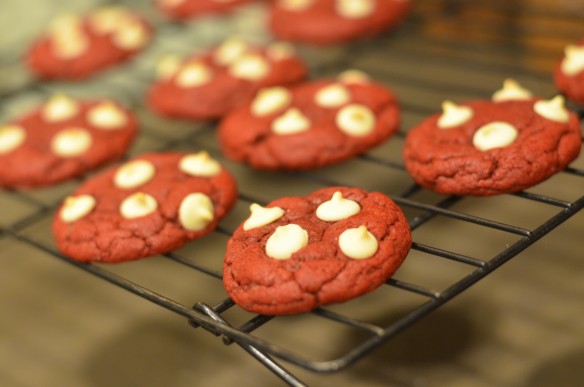 Red Velvet Cookies
yields 2 dozen cookies
1 box Red Velvet cake mix
1/3 cup vegetable oil
2 large eggs
1/2 cup white chocolate chips
In a large bowl combine the cake mix, vegetable oil, and eggs. Mix until just combined.
Cover the dough and refrigerate for at least 30 minutes.
While dough is chilling, line baking sheets with silicone baking mats or parchment paper and preheat oven to 350°.
Scoop tablespoon sized pieces of dough from the bowl, roll into a ball, and slightly flatten on the baking sheet, repeating until you have 24 balls of dough.
Gently press 4-5 white chocolate chips on top of the cookies.
Bake for ~9 minutes until cookies are set on the edges and slightly soft on the outside.
Allow to cool on the baking sheet for 5 minutes before transferring to a wire cooling rack.
Recipe from Duncan Hines