Tom Douglas Coconut Cream Pie
I made this stunning coconut cream (creme?) pie— the pictures really don't do it justice— a few months back for our third anniversary. This is the dessert that we ate the night we got engaged during our visit to Seattle. I found the recipe not too long after that, and I've planned to make it every year since then. It's taken three years, but I finally did it.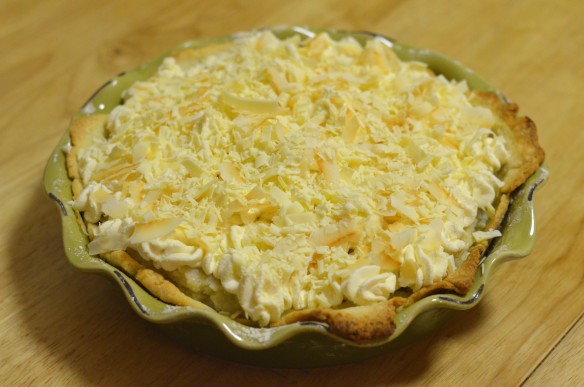 This pie is quite a bit of work, but there is a ton of coconut flavor in it. First, the homemade pie crust is loaded with shredded coconut. Then comes the coconut cream in the middle, which requires some time laboring over a hot stove. The end product is worth it though. Finally, the pie is topped with freshly made whipped cream (you could use premade, but given that everything else is homemade, why would you want to do that?), toasted coconut and curls of white chocolate.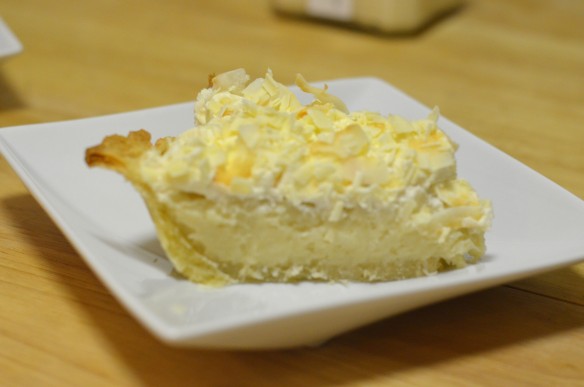 Blame Dustin for this blurry picture!
Tom Douglas Coconut Cream Pie
yields one 9" pie
Pie Crust
1/3 cup ice water, or more as needed
1/4 teaspoon salt
2 teaspoons sugar
8 tablespoons cold unsalted butter, cut into 1/2" pieces
1/2 cup sweetened shredded coconut
1 cup + 2 tablespoons all-purpose flour, plus extra for rolling dough
Combine the flour, coconut, butter, sugar, and salt in the bowl of a food processor with a metal blade.
Pulse to form coarse crumbs.
Gradually add the water, 1 tablespoon at a time, pulsing each time. Use only as much water as need for the dough to hold together when gently pressed— it will be quite loose.
Wrap dough in plastic wrap and shape into a disc. Chill for at least 30 minutes.
Roll out the dough to ~12-12 inches on a lightly floured surface.
Gently press the dough into the pie pan.
Chill the unbaked pie shell at least an hour before baking.
Preheat the oven to 400º.
Place a sheet of aluminum foil in the center of the pie shell and fill with beans, for weight.
Bake for ~20 minutes.
Remove from foil and the beans, and return the crust into the oven to bake for an additional 10-12 minutes, until the edges of the pie are golden.
Note: The pie crust can be made a day ahead of time.
Pastry Cream
1 cup whole milk
1 cup canned unsweetened coconut milk, stirred
2 cups shredded sweetened coconut
2 teaspoons vanilla extract
2 large eggs
1/2 cup + 2 tablespoons granulated sugar sugar
3 tablespoons all-purpose flour
4 tablespoons unsalted butter, at room temperature
Combine milk, coconut milk, shredded coconut, and vanilla in a medium saucepan over medium-high heat. Stir occasionally until mixture almost comes to a boil.
Whisk together eggs, sugar and flour in a medium bowl until well-combined.
Pour a small amount of the hot milk mixture into egg mixture while whisking. Add the warmed egg mixture to saucepan of milk and coconut.
Stir over medium-high heat until pastry cream thickens and begins to bubble. Keep going until the mixture is very thick, about 5 minutes more.
Remove saucepan from heat and add butter, stirring until it melts. Transfer the pastry cream to a bowl, stirring occasionally until cool.
Place a piece of plastic wrap directly on surface of pastry cream to prevent a skin from forming and refrigerate until completely cold.
Once pastry cream is cold and has thickened, fill the pastry shell, smoothing the surface with a rubber spatula.
Note: The coconut pastry cream can also be made a day ahead and stored in the refrigerator, covered with plastic wrap. Do not assemble until ready to eat, as pie should be consumed within one day of making.
Whipped Cream
2 1/2 cups heavy cream, chilled
1/3 cup sugar
1 teaspoon vanilla extract
In an electric mixer fitted with a whisk attachment, whip heavy cream with sugar and vanilla extract to peaks that are firm enough to hold their shape.
Transfer whipped cream to a pastry bag fitted with a star tip.
Pipe whipped cream all over the surface of the pie.
Garnish
1 1/2 cups sweetened shredded coconut
4 ounces white chocolate, chilled
Preheat oven to 350º.
Spread coconut on a baking sheet and toast in the oven for 7 to 8 minutes, watching carefully and agitating once or twice until lightly browned.
Remove from oven and allow to cool.
Use a vegetable peeler to create curls of white chocolate.
Sprinkle toasted coconut and white chocolate curls on top of whipped cream.
slightly adapted from The Dahlia Bakery Cookbook