Cannoli Ice Cream
Awhile back we bought a mozzarella and ricotta cheese making kit from Williams-Sonoma. It's been sitting in the cabinet, but we finally made our own homemade cheese. I read mozzarella was more difficult, so for our first go around we made ricotta.
We needed some uses for ricotta, both sweet (brioche toast with ricotta and nectarine jam) and savory (as a no-cook sauce with parmesan and lemon juice over squid ink pasta). But the best use for ricotta goes to this cannoli ice cream. Since it's getting hot out, an ice cream version of a cannoli sounded nice and refreshing.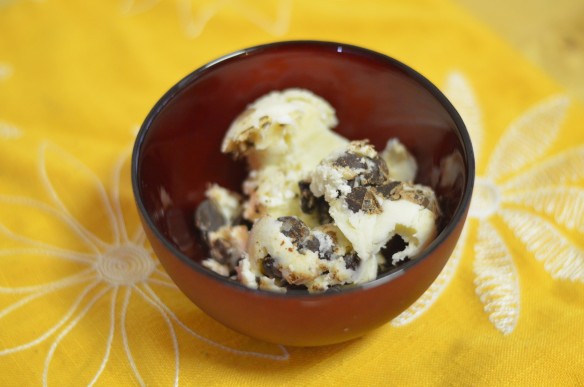 Dustin said it was the best ice cream I've made yet, but he pretty much says that with every other ice cream I make, so take that with a grain of salt. My attempts at a cannoli shell pieces in the ice cream failed, but I really didn't miss them (the filling is the best part).
Cannoli Ice Cream
1 cup heavy cream
3/4 cup whole milk
3/4 cup + 2 tablespoons granulated sugar
2 tablespoons light corn syrup
15 ounces homemade, whole milk ricotta
4 oz cream cheese, diced into cubes
1 1/2 teaspoons vanilla extract
1/2 teaspoon almond extract
3/4 cup mini chocolate chips (I didn't have minis, but they'd work much better than regular)
Combine heavy cream, milk, sugar and corn syrup in a blender until the sugar is dissolved.
Add the ricotta, cream cheese, vanilla and almond extracts.
Blend until smooth.
Pour the mixture into a bowl, cover with plastic wrap
Churn in ice cream maker according to manufacturer's instructions. Add the chocolate chips in the last 5 minutes of processing.
Transfer to airtight container and freeze until desired texture is reached.
slightly adapted from Cooking Classy