Sweet Corn Ice Cream with Blueberry Sauce
There's a local ice cream shop called Coolhaus that creates really unique ice cream flavors including fried chicken and waffles (which we have tasted) to "Netflix" ice cream which consists of a white cheddar popcorn base and Doritos (we haven't tried it). Not all of their flavors are quite that crazy, and you can even purchase a couple of cookies and create you own ice cream sandwich.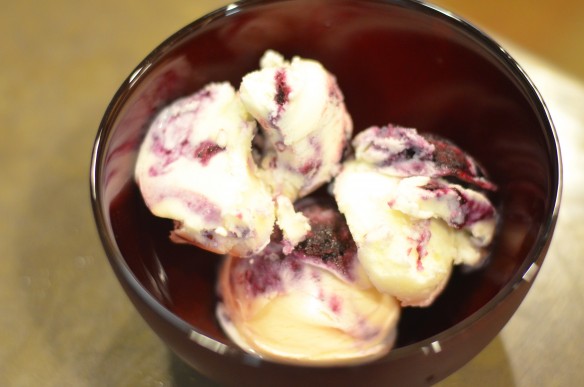 My first time there last summer, I ordered the corn ice cream with blueberries in between red velvet cookies. As soon as I tried that corn ice cream, I added it to my dessert bucket list, and now I've finally gotten around to recreating this delicious ice cream.  I thought about swapping up the blueberries for blackberries or raspberries, which I'm sure would also be delicious, but blueberries were on sale at the grocery store.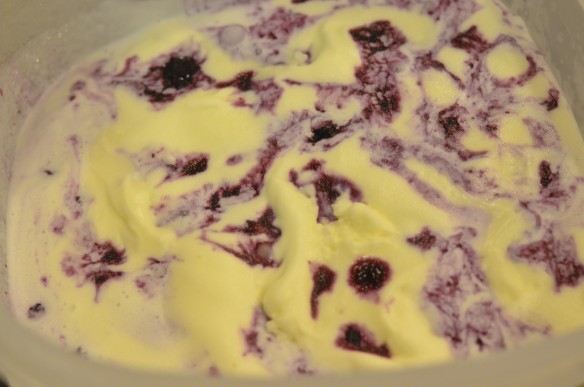 This ice cream definitely has a lot of corn flavor, but it really feels like you are eating dessert rather than a slightly sweet side dish, which some may worry about. I recommend this ice cream if you are looking for a dessert that epitomizes summer, but you are tired of plain old ice creams!
Sweet Corn Ice Cream with Blueberry Sauce
yields ~1 pint of ice cream
Ice Cream
2 cups whole milk
4 teaspoons cornstarch
2 ears of corn
1 cup heavy cream
2/3 cup sugar
2 tablespoons light corn syrup
1/4 teaspoon salt
4 tablespoons cream cheese, softened
In a small bowl, whisk together 1/4 cup of milk and the cornstarch to form a slurry. Set aside.
Cut the kernels from the cobs then cut the cobs in half.
In a large pot, combine the remaining milk, cream, sugar, corn syrup, and salt. Add in the corn kernels and cobs.
Bring to a boil over medium-high heat. Cook for four minutes then stir in the slurry. Bring back to a boil and cook for another 2 minutes, until thickened.
Strain the mixture into a large bowl and discard the solids.
In a small bowl, combine 1/2 cup of the hot milk mixture with the cream cheese and whisk until completely smooth. Whisk back into the remaining milk mixture.
Allow the mixture to cool completely.
Churn in ice cream maker according to manufacturer's instructions.
Transfer to a freezer safe container.
Blueberry Sauce
1 pint blueberries
1/2 cup granulated sugar
In a small saucepan, combine the blueberries and the sugar over medium-high heat.
Cook for about 8 minutes, stirring constantly, until berries burst and sauce thickens.
Allow sauce to cool before using.
Swirl blueberry sauce into the corn ice cream.
Slightly adapted from Saveur